1998 1.9TD VWT4 EGR BLANKING
Hi folks after a lot of searching I have been unable to locate photos of the 1.9td egr blanking procedure, so in an attempt to find out myself and also for other people who may be looking to do the same thing I have created this thread.
I purchased the egr blanking plate off ebay for a fiver, I now need to know where to fit it. Pictured below is the EGR valve, the silver pipe being the hot pipe , ie hot exhaust gas gets sucked up here and put back through the system.
Picture one EGR assembly.
After identifying the EGR assembly and looking at the shape of the blanking plate, I am unsure as to where to fit the gasket/blanking plate, so folks hands on your buzzers here goes,
Is it A, picture number two?
Is it B, picture number three?
Is it C, picture number four?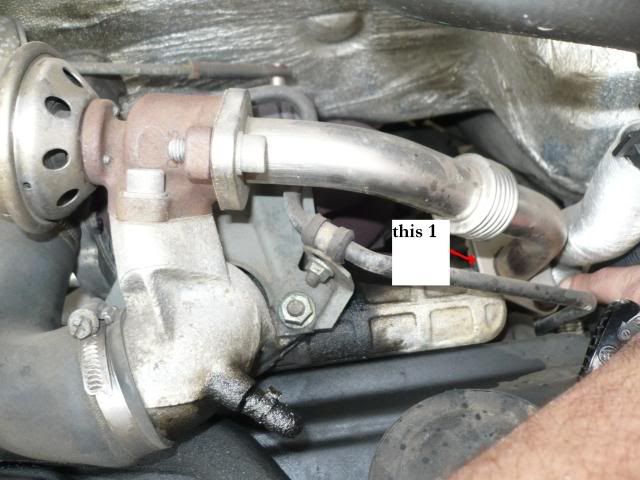 Or D, none of the above?
Cheers folks all feedback/corrections appreciated, I will update this with more photos as I carry out the procedure as soon as one of you kind folks identify the correct bit to stick the plate, cheers!T:
Ok so no definitive answer to be found here !!
Cheers folks , so decided to get the tools out and have a go.
I used a ratchet and 6mm hex bit, undid the two bolts at position A picture 2 and guess what , blocking plate no fit here!!
So screwed bolts back in and began removing bolts at position B picture 3 .1st bolt came out fine 2nd got snagged on a line, so out came the 1st couple o bolts to give me some movement , bolt then came out fine. Blanking plate fitted here no dramas. Didn't do any cleaning just gonna let it do itself.
Nipped everything back up and went for a spin,
I honestly believe there is a difference now, it seems to have slightly better acceleration and my top end was faster (drove home from Scotland few days ago chased another t4 for prolonged period including downhill and only reached 85, I was loaded mind with wife kid and dog) reached 92mph and was still accelerating but had to break for slip road.
Is it psychological, I don't know but for a fiver and a few minutes(literally) im happy as larry.
To reiterate the blanking plate I purchased off ebay for a fiver fitted at location B photograph 3.
some phots of job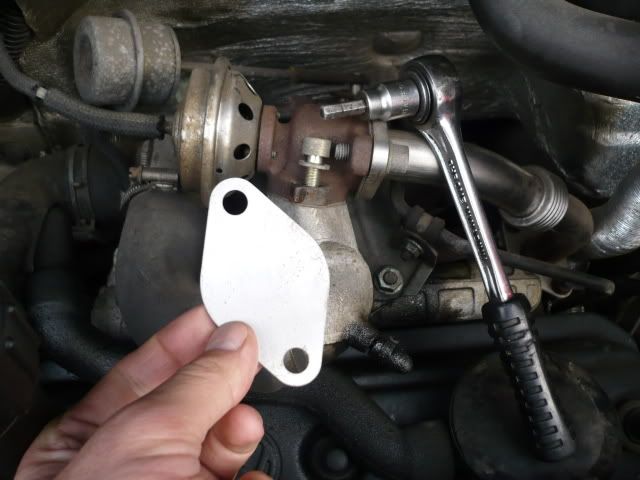 blanking plate , tools, nuts loosened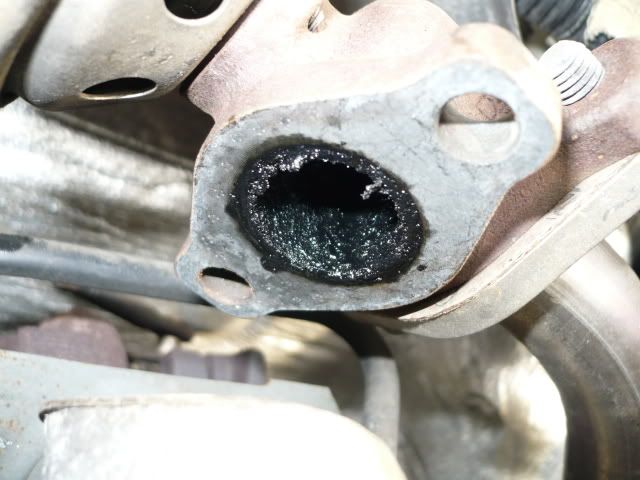 clag in egr
plate fitted in correct location, i think.