Sorry no decent pictures yet because I'm on a boat. But there are some.
Would p/x for an LHD estate.
£7500 -now £6900, guessing to remember mileage. I think it's 130k. 1997.
All details and new photos to be confirmed on Tuesday
. And my phone number will work then too (no signal here at sea) -01202 239026. It's in Ringwood near Bournemouth. Also seen around Basingstoke and Winchester.
Copy and paste ad -->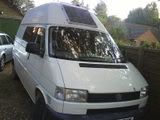 Ok, first thing first I'm doing this all from memory while on holiday so we will need to double check I've got everything right.
First, this is the 2.5tdi engine. This is the best T4 engine in that it doesn't have the gearbox problems like the 2.4 has been known to have. It's also got the power you need and efficiency of the turbo. It's not chipped but it's the fastest campervan I know.
The next good thing is that I've replaced the clutch. Basically this was heavy and this was in combination with the common faulty clutch pedal problem.
I replaced the whole clutch I got a off a guy from the VW T4 forum owners club forum to weld me a new clutch pedal box. (the pedal box would set you back ~£200 fitted if you had to get someone to do it for you, and the clutch I was originally getting quotes for £1200). This is one of the few T4 common faults and you have it here fixed ready for you with a receipt. What with that and the new clutch all you got left to worry about now might be the gearbox - which when you test drive it you will see feels great. Regular servicing/MOTs by a trusted friend of the family. Well, I didn't like that a new wing mirror cost me £100 but he's still the best.
The more I write this the more I don't want to sell it!
Ok, next very nice thing is the wood burning stove. This was fitted professionally by WindySmithy - that's unusual. For the princely sum of £450! If I knew it was going to be that much I wouldn't have sold it! It's all shielded with steel. I helped him cut the steel with tin snips.
Another good thing is the big solar panel on the front. It's nearly a meter wide. That came with the van when I bought it. The guy who had the van before me was a professional solar panel installer and he was using this as a demonstration vehicle. Obviously this makes a very well done install, with a nice solar regulator and battery meter. However, this system is completely separate from the vehicle system with no link to the alternator. It's a very simple improvement to make to just link the 2.
Oh, and it's long wheel base. That actually means it's about the same length and width as an estate, fitting in standard parking spaces. Basically this is the most sought after T4 as far as I can tell.
Those are the defining things here.
What else?
Well the leisure battery I replaced this year, I think July? from Trade Parts in Poole. Also, I've fixed the door roller, which was not as easy as I expected.
That's the only 2 problems I've had since I've owned it actually, the clutch master and the roller (the clutch itself was actually fine but I decided to replace it as getting in there was such a pain it made sense to me, totally over the top perhaps but I'm glad I went for it in the end). Testament to the T4 really. I may well buy one again as left hand drive. Swap offers welcome on that. Or indeed even just a smaller van P/X, though a sell is probably simpler.
What's the bad news then?
The bodywork! It's got a dent on the drivers side rear. However, I've always taken care to get some vaseline on the wound at the time of incident, along with drying the area and then some paint on it as soon as possible.
Basically although it ruins the sell-ability of the vehicle some summer sanding and painting with a roller, or even a proper spraying and you're all set. I wish I could do a decent job of it myself. As you can see from my horrendous paining attempts a paint job would do this wonders.
I've taken this van all over, including Courchevel France skiing where I slept for a week amoungst the Winniebagos and millionaires. I'll include the €70 snowchains, guess they're no use to me...
It took the alps no problem!
Space for 3 surfboards, or skis, or kiteboards. Space under the bed for stuff, space in the cupboards, space above the front seats. Front seats are bench by the way so can take 3 passengers. The front seats fold down for a steel table.
I really don't want to sell this but I expect to be spending time in Spain and Argentina now. Then again, perhaps I can't go through with this.
This vehicle isn't perfect; the paintwork and electrical system tweaks should really be done asap and I'd get on this asap if I was around. Basically that makes it even better for modding up into something looking nice. I'd really like to see a good job done on this. I'd certainly favour anyone making a basic project out of it - you'd only need a lick of paint and alloys and you got yourself something lovely.
-LWB
-hitop
-2.5tdi
-solar panel
-wood burning stove
-new clutch & pedal box
Well, tear to my eye and all that. Very silly. Another reason to sell I suppose.
Sorry, emails only for initial contact while I'm away on work.
I'll get a video up when I get back in a couple of weeks time.
All the best,
-Andrew
p.s. Better pics to follow (inc. paintwork damage) when I get home from work on Tuesday. Until then here's an album from when I replaced the door roller etc:
http://s48.photobucket.com/albums/f211/jago25_98/white_van/
Video -
http://www.youtube.com/watch?v=9NY22G6zGco