Discussion Starter
·
#1
·
Surface rust
what i started with (i had already put rust treatment on it as i was not going to deal with this part yet but as i thought i would make a guide it seemed like a good idea to start here)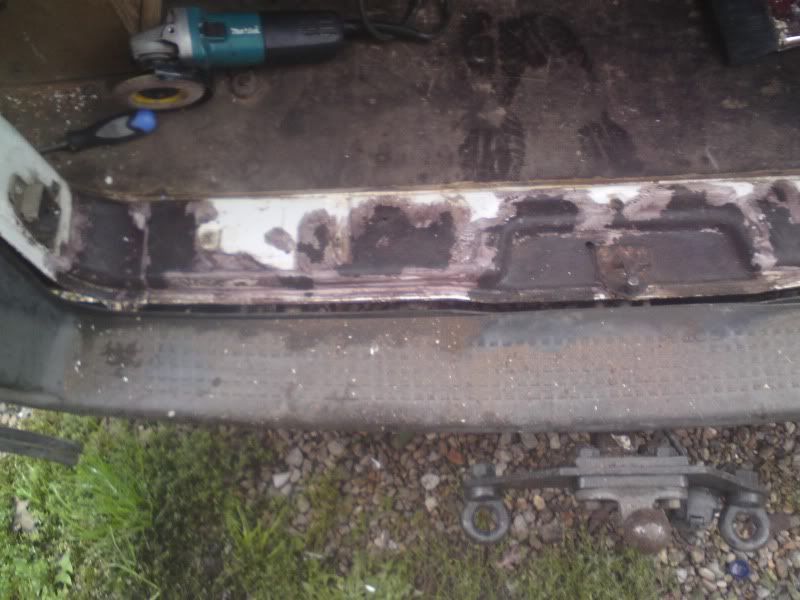 the first thing to do is to remove as much of the lose rust as you can be it with a flap wheel on a drill or grinder or by hand with some 40 grit or 80 grit paper. once that is done you should end up with something along the lines of this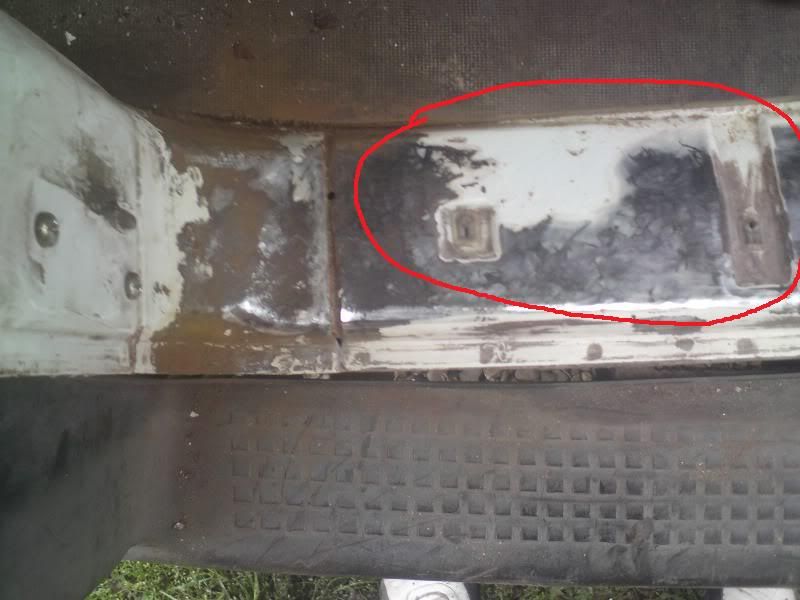 the bit inside the red mark is the section i had been working on and the bit out side is the bit that still needed more work
once you have removed as much of rust as you can its now time to put on your rust treatment. here i used kurust but another good rust treatment is wurth's rust killer but i have only seen this online on places like ebay or in car bodyshop supplies
with the rust treatment on (kurust turns from a milk colour to a purple/black when it comes into contact with rust so you can see its working. wurth's version of rust killer is just purple/black to start with.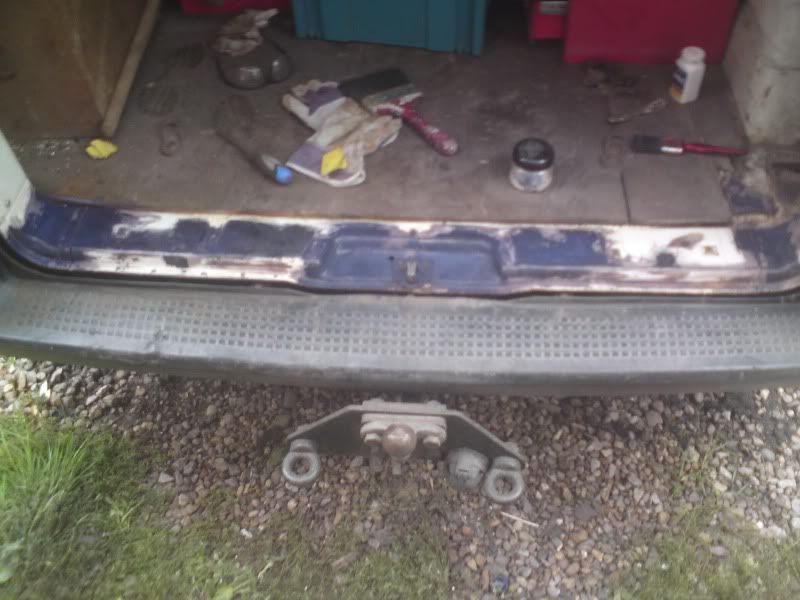 with the rust treatment dry and done its job the next stage is to apply a some fibreglass in the shape of p45 if there is any small holes that have gone throw the metal. its better to use P45 or a like because once its gone off it wont suck up any water where as the bodyfiller will if its not sealed on both sides with paint or stone chip etc. if you dont have little holes or deep marks in the metal surface then just go straight on with a skim filler.
no matter if you need to use a skin of filler or a little fibreglass you need to make sure that the rust treatment is 100% dry before you apply any fibreglass or filler because if the rust treatment is still wet it could stop the fibreglass or filler from sticking to surface and leading it to be pulled out when flatting back or worse still falling out at a later date.
the next stage is to flat the filler back to remove any filler thats unwanted for this i would use 80grit paper to get it almost there and then the next stage is to use some 320 grit paper to take the filler the rest of the way down which will also remove the marks left by the 80 grit sandpaper and also with the 320 grit paper you want to feather the edge of the paintwork out so that its smooth where it meets the metal around the area you have had been working on.
the next stage is to mask up around the area you have just repaired in orde to stop the over spray from going on the rest of the paint work. along the edge where the new and old paint work will meet its well worth masking it with soft egde masking tape but this can be expensive so if you dont want to shell out the money for it ill let you into a secret at the end which will save you some money.
once you masked up its time to clean the surface with some alcohol or pannel wipes to remove any dirt from the surface to be painted. with the surface clean you now want to apply 2 or 3 layers of acid etch primer to the repair area before leaving it to dry and applying a few coats of normal primer although you dont have to use normal primer over the acid etch i like to use it on areas that have rust treated or dents taken out as this gives another few layers to help hide and wobbles or anything that maybe left.
with the primers on and dry you want to apply some guide coat to the surface to help with flatting back the primer. for the guide coat you can use normal black spray paint and mist it on or you can buy guide coats in powder or spray but i find the black spray paint works just as well and is cheaper to buy. you want to flat back with 800 grit paper if your going to be using a pearl colour or anything from 500 grit to 800grit if your using a solid colour.
the next stage is to remask the area a little high up than last time and then clean the surface with your wipes and apply your colour and once that is dry apply your lacquer.
soft edge masking tape secret
soft edge masking tape is a tube shape foam tape that helps stop the build up of paint. because the shape of the edge on standard masking tape you tend to get a build up of paint there which gives you a lip where the new paint meets the old paint but because the soft edge masking tape has a rounded edge on it it helps to feather that edge out so your left with less of a lip if any at all. but to save buying this tape as its not always that cheap depending on where you go you can take some stand masking tape and fold it/roll it up down the length of the tape and this gives you a softer edge than the standard masking tape has. photo below so you get the idea (it was brown tape instead of masking tape as i was to lazy to go and get the masking tape)