Instruments/Clusters/Clocks/Dials/Dash Panels etc.
whatever you care to call them. I prefer the term 'instrument cluster' as this to me most accurately describes what is in question – a clock is something that tells the time and usually hangs on the wall
This is a short overview of the various types originally fitted to the T4, along with those from other vehicles which will fit. Hopefully it will answer many of the common questions people have been asking.
There are basically 3 different types or 'eras' of cluster fitted to the T4
Early (~1990 -> 09/1995)
These clusters followed the styling adopted across the VW vehicle range at the time. Typically as fitted to the T4, they look like the pic. below with some variation, usually relating to the position of the clock or fitment of a tachometer.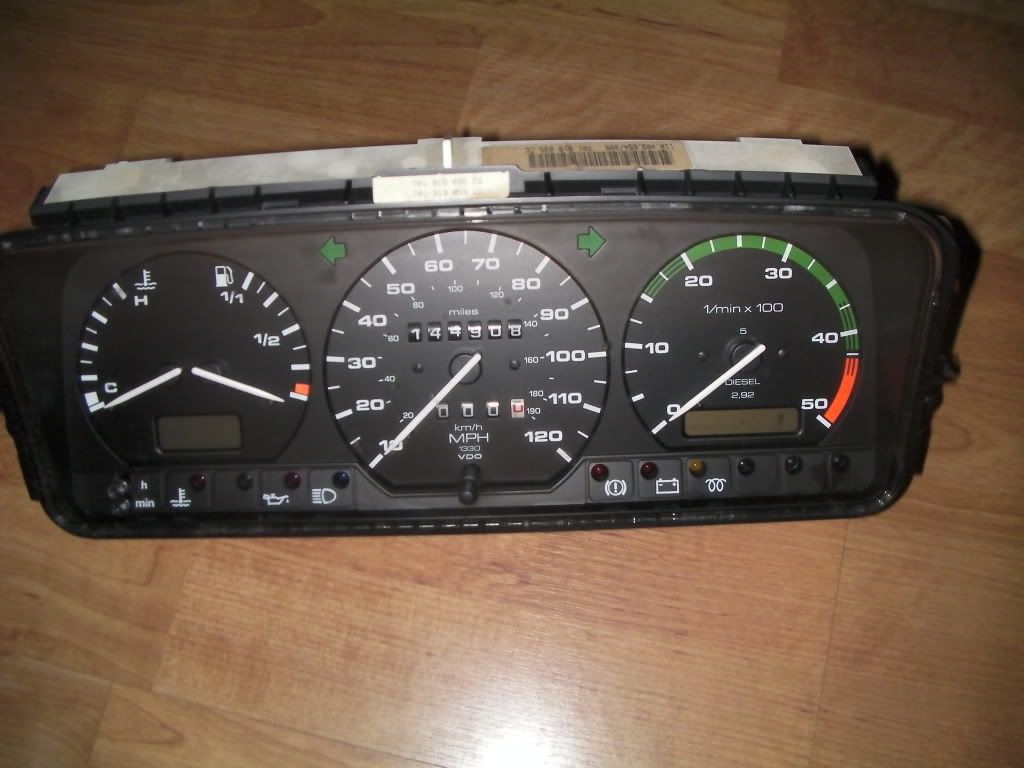 Pic 1. - A 1995 2.4D Auto cluster with cable speedo
Some of the high-end petrol T4 clusters (Caravelle etc.) of this era were fitted with MFA (a display which included such niceties as MPG/trip/etc.) with a corresponding selector switch on the wiper stalk. This was the only cluster which had a basic diagnostic interface – all others were 'dumb'.
Typically the clusters of this era had a mechanical cable-driven speedometer/odometer/tripmeter in the center of the cluster, and an analogue clock occupying the RHS of the cluster, (or digital one on the LHS whilst the tacho occupied the space of the analogue clock) with the temperature and fuel gauges on the far LHS. The backlighting was a greenish colour as was the remainder of the dash backlighting.
Mid (09/1995 -> 06/1999)
The cluster from this period was very similar to the previous one but the styling and fonts for the speedo and gauges had changed slightly and now included a rear fog lamp warning indicator. Also from this period onward all speedometers were electronic – there were no cable speedos. Other changes included an electronic odo and trip which was now located at the bottom of the speedo – this is the easiest way to identify this particular cluster.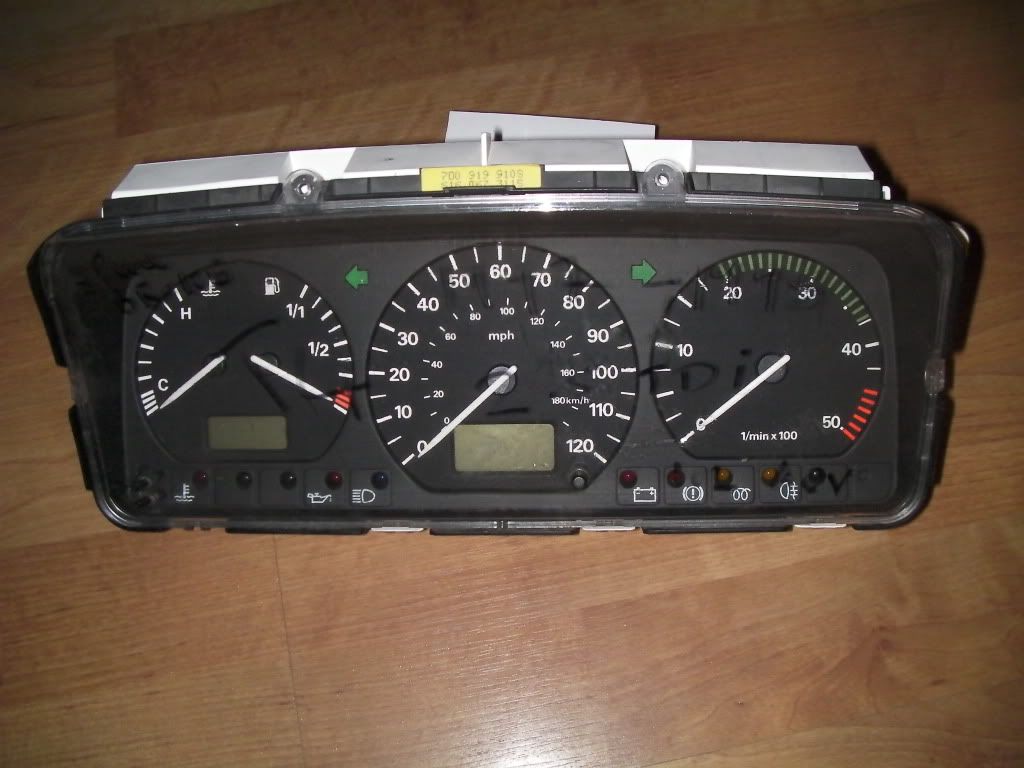 Pic 2. - A 2.5TDI manual (96-99) all electronic cluster
All clusters now also had a k-line diagnostic interface which meant that they all used the same hardware and a simple change of the to soft coding values meant that the cluster could be used with any type of engine/gearbox combination. The cluster had the same physical dimensions as the previous one and the binnacle was the same shape and size. Which meant that the plastic surround was the same shape. This essentially means that (physically at least) this cluster is a straight swap for the old cable-drive one. Although rare (and usually only on LHD vehicles) these clusters were available with MFA on petrol and 2.5TDI diesel high-end vehicles – Caravelle, Multivan etc.
Late (~06/1999 -> 2004)
The famous "blue clocks" which everyone seems to crave as an upgrade. These are a quite a minefield and have caused all sorts of problems for those who think it's a case of 'plug and play'. Like the 95->99 clusters these are all-electronic, and also use a K-line interface for fault diagnosis/adaption. The styling was a major departure from the to previous generations of cluster and again closely reflected that of other VAG vehicles of the time. These clusters also included lots of warning indicators for various aspects such as seatbelt, ABS, etc., although not all of these were implemented (depending largely on the trim-level or vehicle type). I am also reliably informed (although I cannot confirm this) that some high-end RHD vehicles (Caravelle/Multivan) were fitted with FIS
Fahrerinformationsystem
(Driver Information System) clusters. The FIS cluster has an LCD screen backlit by red LEDs in the middle of the cluster, which takes up the whole rectangular area where most VWs have the warning lights.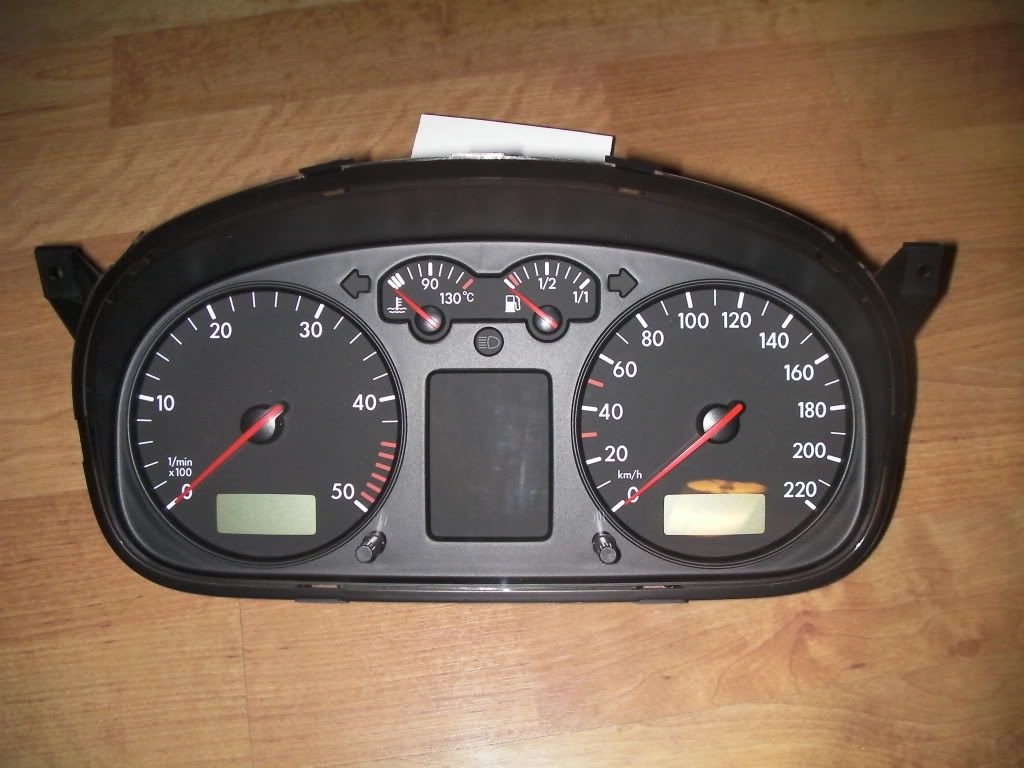 Pic 3. - A 2.5TDI European spec. 'blue' cluster
Functionally speaking there were two different types of cluster (although outwardly they look identical) and this is where the trouble begins! The first type uses discrete signals for the speedo, RPM, airbag, and back-lighting (i.e. these are wired directly to the pins on the blue and green sockets on the back of the cluster) – these are the clusters that were fitted to all 1.9TD T4 vehicles (06/1999->) and some 2.5TDI up until ~2001. The second type of cluster used CAN-bus to send the messages from the relevant body module/ECU for this functionality to the cluster. This basically means that the pins for the discrete signals do nothing, and if you put the cluster in a non-CAN based vehicle some or all of the functions mentioned previously will not work.
FAQ
1. If I have an older (pre 96) van with cable speedo can I fit one of the newer clusters?

Yes you can, but...as all the later clusters use electronic speedo you will need to add a sensor to the gearbox and some additional wiring. This is fairly straightforward and shouldn't be a problem if you are handy.
2. I have a 1.9D/TD (or 2.4D), can I just replace my cluster for one that has a rev counter?

Yes you can
as long as the new cluster is from a 1.9TD or 2.4D
. The tach. will not work if the new cluster came from a 2.5TDI as the engine speed signal for the 2.5TDI is generated by the ECU and is different to the signal on the 1.9D/TD (which is generated by the alternator).
3. I want the "blue clocks", will any old 'blue-style' cluster fit my van?
No - As a rule only non CAN-based T4 clusters will work in a non-CAN vehicle. So, when looking for a blue style cluster to fit your van make sure the part number is one of those listed in the table below which does not have CAN. Again, if you have an older van (pre '95) you will need add a speed sensor to the gearbox as well as the harness which connects the fusebox to the cluster itself.
4. I have converted my van to 1.9TDI, I have been told that I need to use the cluster from the donor vehicle – is this true?
Absolutely not, you should keep your original T4 cluster, it will work just fine. Not only will any donor car cluster not physically fit the instrument aperture but it is enirely un-necessary to go to all of the hassle of 'making it fit' and swapping the harness. The only minor change you may need to consider when keeping the original cluster is the wiring of the RPM signal (on the TDI it is derived from the ECU and on the TD/2.4D from the alternator). However this is only necessary if you have a tach fitted to your original cluster
5. I have fitted a set of 'blue clocks' to my van, but I can't get the backlighting/RPM/Glow warning/etc to work, what's wrong?
You have probably fitted a cluster from a CAN-based vehicle - see Q3 above
6. I have bought a new cluster but the mileage is different from my old one, can I use VAG COM to correct it?
Yes and No, VAG COM will only allow you change the mileage
upwards
, and only if the odo reads <100 miles, once changed, it cannot be altered backwards. So, for example if your new cluster reads 00086, you can alter it with VAG COM to read e.g. 145,560. I can change odo readings or recode your replacement cluster for a small fee (strictly to cover carriage etc.) if you send me the cluster.

So besides the T4 clusters are there any others that will fit?
Yes....
but there are some caveats - see below:
Non-TDI engined vehicles e.g. 1.9D/TD/2.4D:
VW Passat B4 D/TD will fit both physically and are also the same in terms of the electrical characteristics.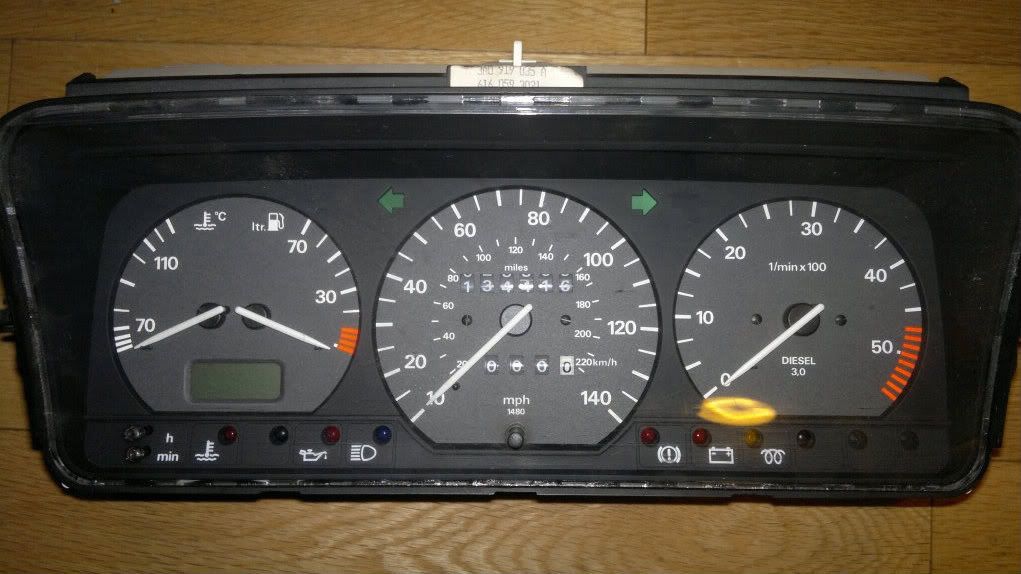 Pic. 4 - A Cable-driven 1997 Passat B4 1.9TD Instrument Cluster
TDI engined vehicles (either retrofit 1.9TDI or original 2.5TDI)
VW Passat B4 TDI will fit both physically and are also the same in terms of the electrical characteristics.


VW Golf 4 Diesel "Blue Clocks" non-CAN clusters P/N: 1J0 919 XXX The binnacle fronts (plastic shrouds) are slightly different from the T4 ones but if you have a corresponding late T4 cluster these can be swapped over. The T4 fuel tank sender can be modified by swapping the polarity and adding a low-ohm resistor to the hot side. A much more elegant solution is to fit the Passat/Golf tank sender - then there is no modification - just plug'n'play. Also the golf clusters have immobiliser 2 built-in, so you could do-away with your immobiliser box and just use the one in the cluster if you wanted to. Furthermore, some of these clusters are available with MFA (p/n's: 1J0 919 911, 1J0 919 930, and 1J0 919 931 are the three I am aware of) and by connecting the fuel-consumption signal you can get goodies such as MPG, miles till empty, etc.


VW Passat B5 (98-2003) Diesel non-CAN clusters (part numbers 3B0 919 XXXx) will also work but the fuel gauge will read incorrectly – modify as per Golf 4 cluster above. You may also find that the speed reads slow - the EEPROM can be modified to correct this however if you have the necessary s/w


Golf 3/Toledo/Polo 4/Ibiza/Inca/Caddy/etc. clusters will also fit obviously if you have 1.9TDI conversion, but again you may experience issues with fuel gaugeand speedo readings.
If you have a 1990 ->1999
Petrol
T4 then you may want to consider a VW Corrado cluster (comes with all the MFA toys built-in T
: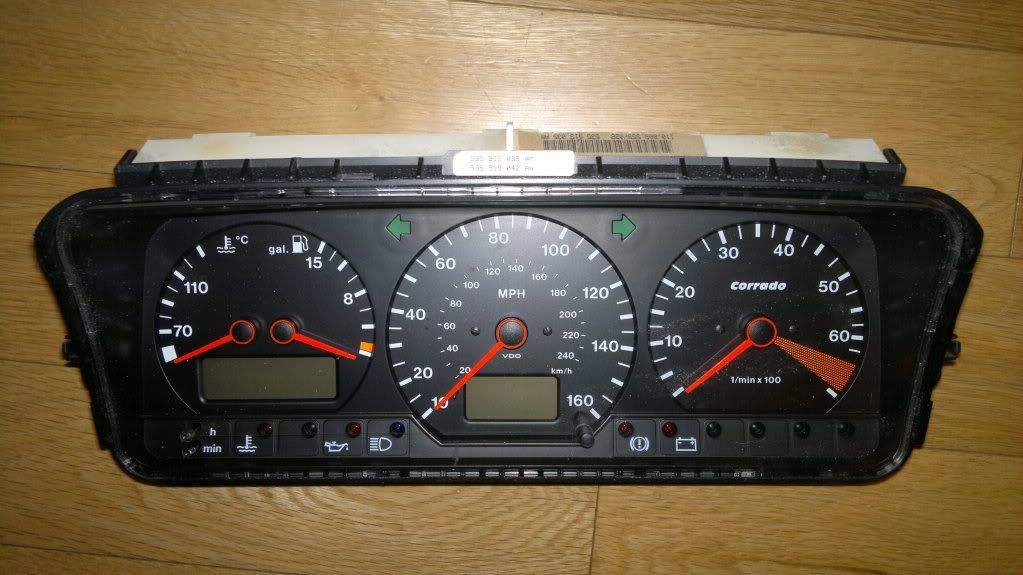 Pic. 5 - 1994 VW Corrado 2.8 Petrol Instrument Cluster
Soft Coding (for 'blue' clusters)
Instrument Cluster Soft Coding Values are 5 digit numbers which you will see in the soft coding box in VAG COM when you communicate with the cluster.
?? XXX - Options
+01 = Brake Pad Wear Warning activated
+02 = Seat belt Warning activated
+04 = Washer Fluid Warning activated
+08 = Seatbelt Warning (North America)
+10 = Seatbelt Warning Driver & Passenger active (North America)
+16 = Radio/Navigation Display
Add the values of all the installed component options together and the total is the first two digits of the soft coding e.g. if you have washer fluid level warning and brake pad wear indicators then 01 + 04 = 05.
XX ? XX - Country
1 = Europe
2 = USA
3 = Canada/Mexico/Latin America
4 = United Kingdom
5 = Japan
6 = Saudi Arabia
7 = Australia

Changing this value will make the cluster odometer display in either miles or km, and the time display in either 12 or 24hr clock.
For T4 clusters only = XXX ? X - No of Cylinders
4 = 4 cylinder Engine
5 = 5 cylinder Engine
6 = 6 cylinder (petrol) Engine
Self explanatory...
For Golf/Passat Clusters: = XXX ? X - Service Interval
0 = Fixed Service Interval (PR-QG0) without Oil Level/Temperature Sensor
1 = Flexible Service Interval with Oil Level/Temperature Sensor (PR-QG1)
2 = Fixed Service Interval with Oil Level/Temperature Sensor (PR-QG2)
3 = No Service Interval (North America)
This value change the service interval and hence frequency of the alerts on the cluster...
XXXX ? - Distance Impulse Number (K-Value)
0 = Speed signal via CAN - All Engines/Gearbox combinations
1 = 4345 Pulses/KM or 6991 Pulses/Mile
2 = 3528 Pulses/KM or 5677 Pulses/Mile
3 = 4134 Pulses/KM or 6651 Pulses/Mile
4 = 3648 Pulses/KM or 5870 Pulses/Mile
Blue Cluster Part Numbers:
No code has to be inserted here.

Connector Pinouts
Early Instrument Clusters (1990 -> 1995) - Single 28 Pin Connector
No code has to be inserted here.
Mid Era Instrument Clusters (1995 -> 1998) - Single 28 Pin Connector
No code has to be inserted here.