There are plenty of other references on here to installing Cruise Control, but hopefully this is a bit more comprehensive- Please dont attemp this unless you are competent enough to do so! (legal bit)
This is for a 2001 TDi with steering wheel AIRBAG (your's might be different- check first!)
Firstly-
DISCONNECT YOUR BATTERY BEFORE ATTEMPTING TO DISCONNECT YOUR AIRBAG TO REMOVE STEERING WHEEL!!!!!
LEAVE IT FOR 5 MINS BEFORE YOU GO ANY FURTHER
I bought one of these- a cruise control stalk with wiring loom (Genuine VW T4 part- £55ex VAT from VW- no re-wiring required- just plug n play!)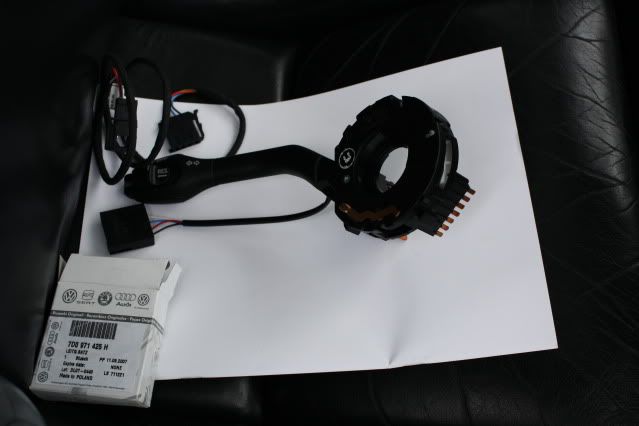 There are easy(ish) to follow instructions included in pack but ive found easier ways to do what is needed.
Step 1-
MAKE SURE YOU'VE DISCONNECTED YOUR BATTERY!!!!!
LEAVE IT FOR 5 MINS BEFORE YOU GO ANY FURTHER
Step 2-
Take off your steering column cowling (3 star screws on bottom side) to make it easier for Step 3.. Remember to disconnect your VAG Com plug from cowling before taking it off completely!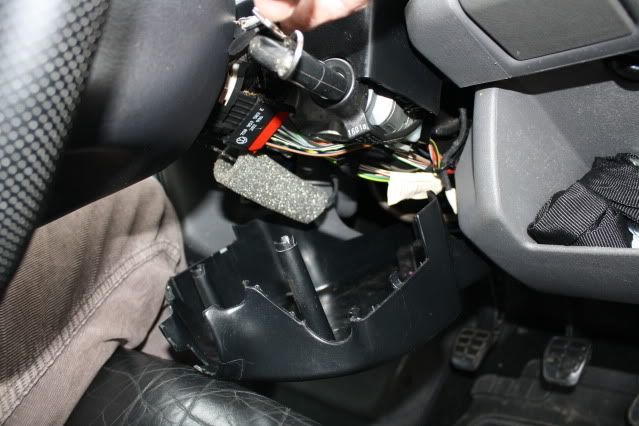 Step 3-
Turn your steering wheel thru 90degrees.
Stick a flat bladed screwdriver into the snmall hole behind steering wheel as shown.
You are trying to prise this spring clip off the "bullet" lugs that hold on the airbag to steering wheel so your blade needs to be square on!
Make sure the handle side of driver pointed down towards steering column, blade side pointing out towards outside of wheel to get blade under wire clip.
Now pull up on screwdriver, taking handle end up & away from column to roof, pivoting the blade down towards the centre of steering wheel, moving spring clip and releasing from bullet lug.
Do same on other side.
THIS WILL TAKE SOME TIME (keep trying- i took 20mins to get first one!)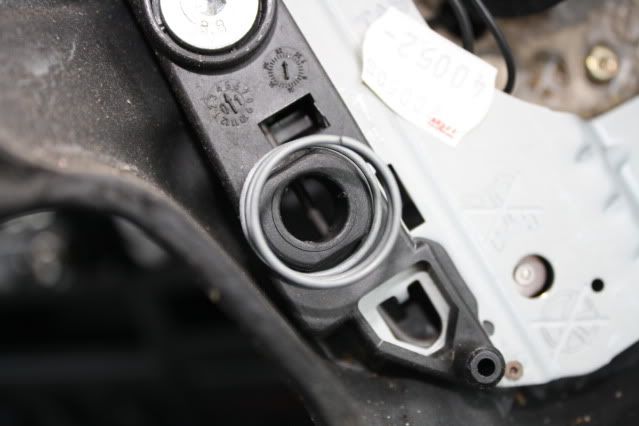 The airbag will eventually come away from steering wheel (look carefully- i didnt notice it was away at first, theres no "click" to let you know!)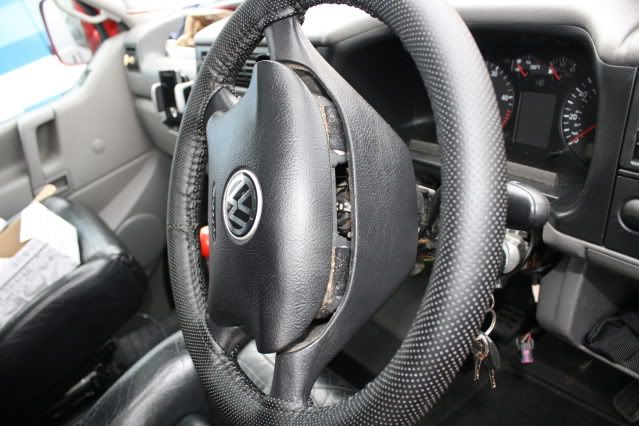 Step 4-
Disconnect this yellow plug before fully removing airbag & leaving in safe place- ("bullet" lugs can be seen top & bottom of airbag in pic)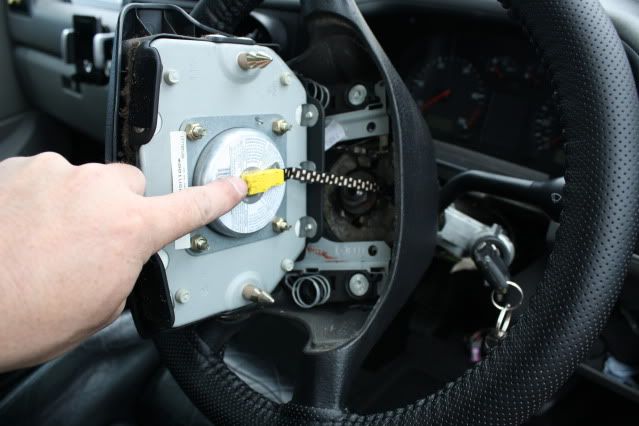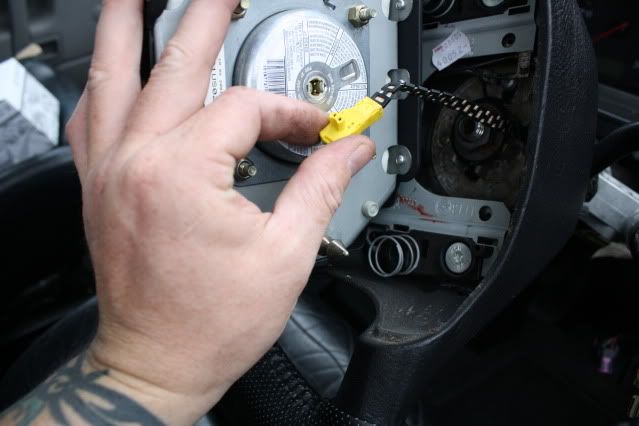 Step 5
Undo steering wheel nut (normal anti-clockwise to loosen) might be an idea to put steering wheel lock on but use your knees etc to brace it when undoing nut.
Make sure nothing pops or springs out and take a note of where washer and "spring clip" are.
Mark the position of the steering wheel with a permanent marker or pencil both on the steering wheel (toothed ring) and on steering column spline (make sure marks are exactly in line before pulling off wheel!!I
Step 6-
Disconnect the existing connectors on stalks and undo the 3 retaining screws shown-
Step 7-
Install new CC stalk as reverse of step 6- re-fit all connections & screw on.
Daub a bit of grease on copper strip (this rubs against copper ring on steering wheel to give connection when wheel being turned)
New stalk installed-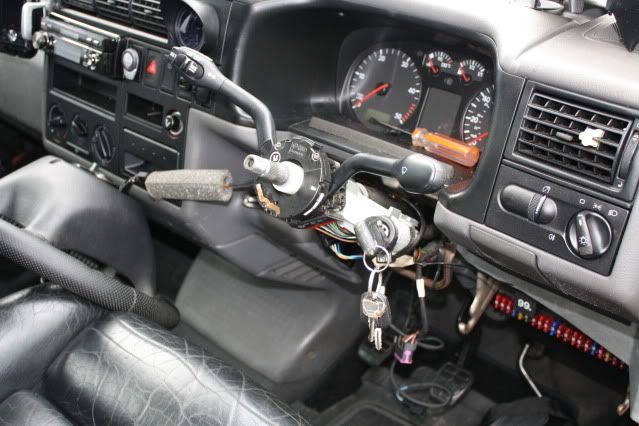 Step 8-
Locate relay/ fuse box by unscrewing nut on the cubby hole just below the light switch.
This pivots down so you need to pull firmly to disconnect retaining lugs.
Undo the 2 screws and one nut at the strengthening plate covering the relay's (it just makes life so much easier- instructions say you dont have to but i honestly think it saves time in long run- you'll see why later!)
No need to locate or remove "relay 3" as per instructions!!!!!!!!!!
If you have the room to lie down then you might not need to do the following steps- you may be able to locate the black CC loom connector at rear of fusebox.
I couldnt- so............
Pull thisblack plastic cover towards you to uncover the clips holding inrelay/ fusebox
Unclip the "anti twist" clips both sides and pull the whole relay/ fusebox upwards towards speedo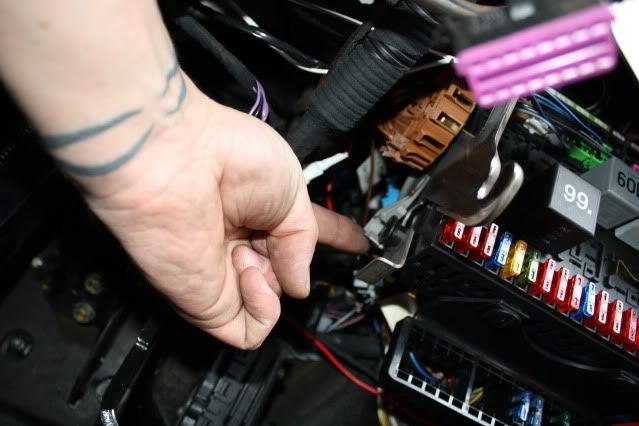 Step 9-
:*:*:*
This is what will greet you when you take off relay/ fuse box
DONT PANIC! (Though its far worse than it looks
)
You need to locate the black Cruise Control loom connector which is HERE-
Its THIS- (should have numbers 1 & 3 and 4 & 2 on opposite sides- make sure you connect your loom accordingly as its numbered same way- have a good look at your connector/ loom - you'll see what i mean
)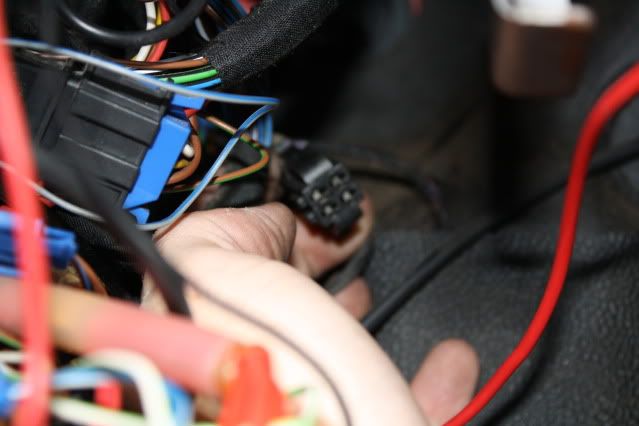 Step 10-
Connect it all together, both here and at the stalk on steering column, put relay/ fuse box back together, re fasten metal strengthening plate, zip- tie your new loom neatly to existing wiring, well out of the way of the pedals.
Put your plastic cowling back on steering column, re- fit all your plastic gubbins etc
Remeber to re-connect your VAG-Com connector in cowling! I:
Now LINE UP YOUR MARKS ON STEERING WHEEL AND STEERING COLUMN CAREFULLY
This will save more hassle - you shouldnt have to re-align after everything done up!
Put on your washers/ nuts etc in reverse sequence as they came off.
Now re-connect your airbag wiring and push airbag unit home firmly until it clicks and "bullet" lugs lock into the spring clips that were a pain in the ar*se to undo when you started!! LOL:
Re- connect your battery, make sure your lights/ horn/ indicators etc etc all work
NOW GO SPEAK NICELY TO SOMEONE WITH VAG-Com WHO WILL HAVE TO ACTIVATE YOUR NEW INSTALLATION BEFORE IT WILL FUNCTION AS INTENDED.
**UPDATE** INSTALL SHEET WITH CC STALK STATES LINE 11 TO ACTIVATE- ITS LINE 16 TO PUT ACTIVATION CODE IN!!
Take some money/ beer/ fags/ etc to use as bribery LOL:
Enjoy T: