As promised to a couple of guys on here and also maybe a reference for others out there.
Not going to turn this into a slagging off CMC topic as I don't want it deleted
Van is 95/96 LWB hardboard lined, 12mm ply floor with carpet, 2 single seats up front. Original spring height of van from wheel arch to centre of wheel 405mm
Story goes~
Ordered CMC-60 HD springs advertised to 'still carry 1200kg' in weight (maybe a bit naive on my part?)
But wasn't happy with the supposed weight handling so I bought the Eibach -40 springs, comparison~
CMC -60 HD Spring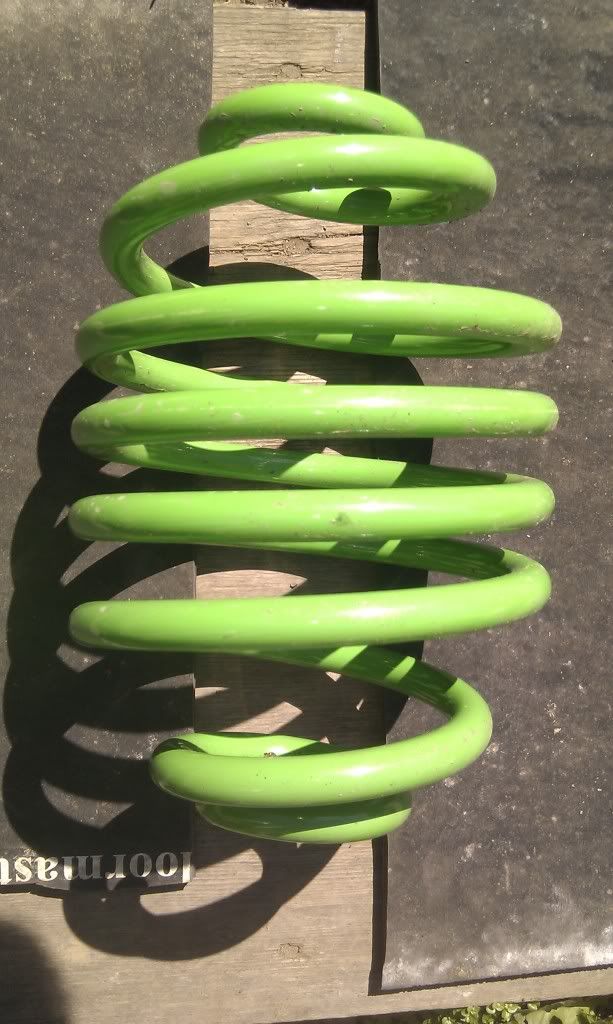 Eibach -45 Spring on the left (Standard T4 spring on the right)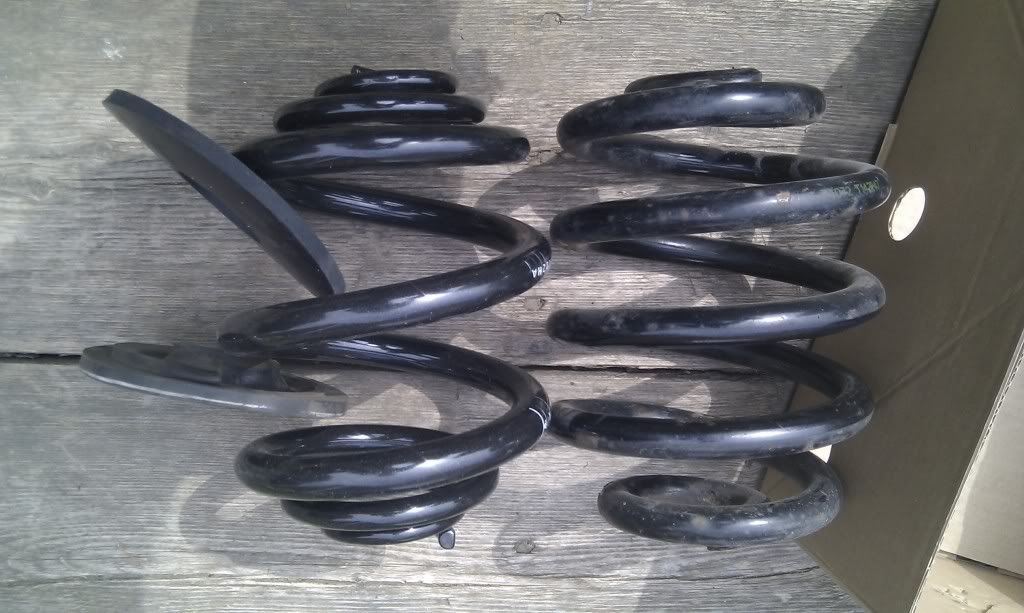 CMC -60 HD on an unloaded van (drops suspension 40mm)
Eibach -45 on an unloaded van (drops suspension 25mm)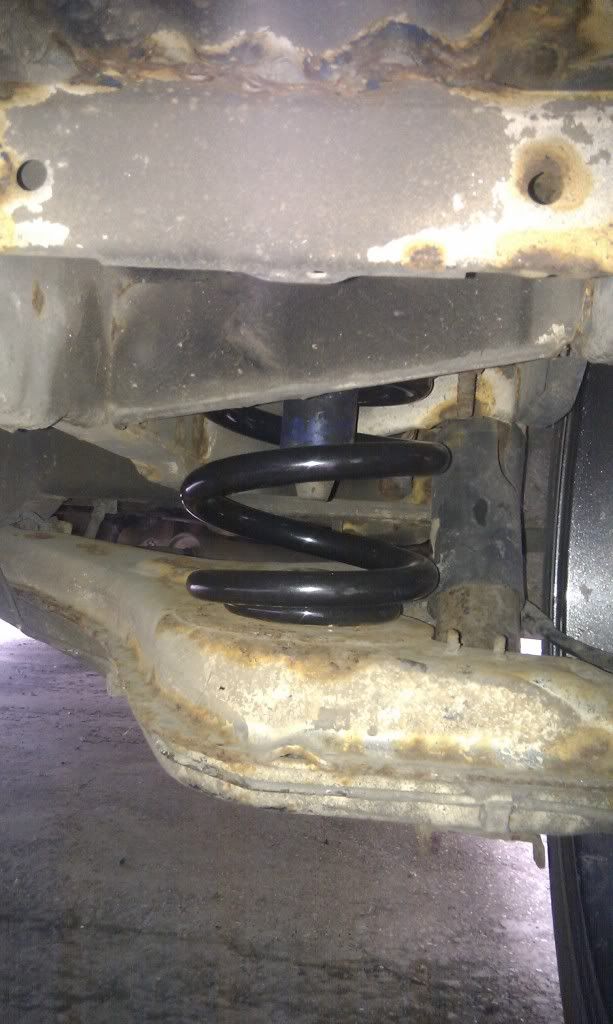 The CMC -60 springs dropped my van 40mm to 365mm whilst unloaded which was acceptable as I knew they were HD.
My job is transporting quite heavy equipment, sometimes up around the 1200kg mark but very rare. As the CMC springs were advertised to 'still carry1200kg' i thought these springs were a god send especially at a price of around £75 delivered.
After loading the van with 550kg (all my equipment has to be weighed for my job) the suspension dropped 70mm to 335mm. Obviously I was expecting a drop but thought there was no way these springs would take 1200kg
So I thought about using another rubber plate at the top of the spring just to give it a boost and a guy on here (Chris) gave me some rubber mat which I cut out and inserted above the other rubber plate as seen here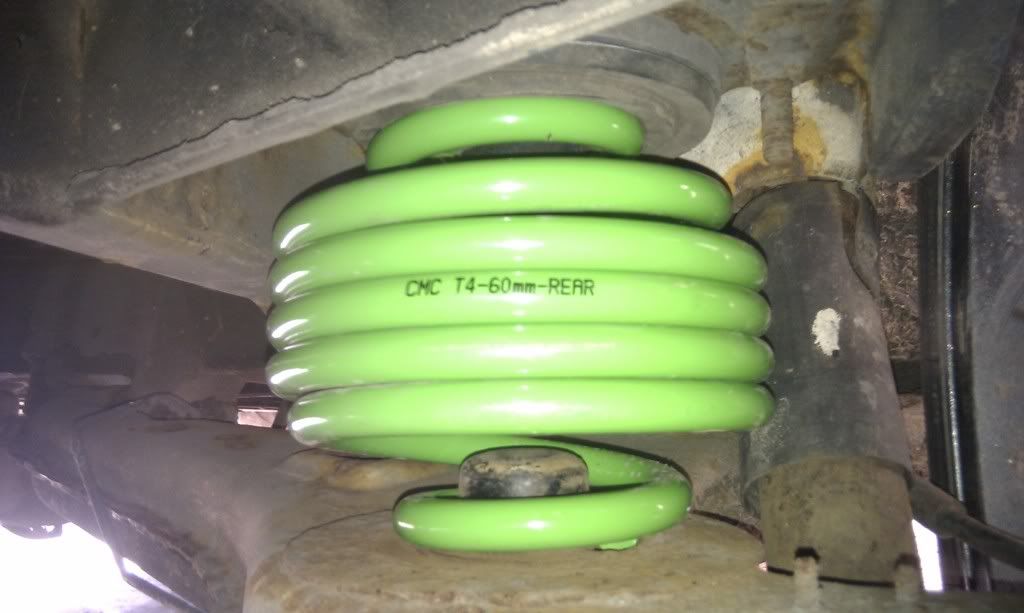 This raised the unloaded van up 15mm so my new ride height was 380mm
I loaded the van up to see what would happen and I suddenly found that adding another 61kg (611kg) it bottomed the van out so it sat solid on the bumpstops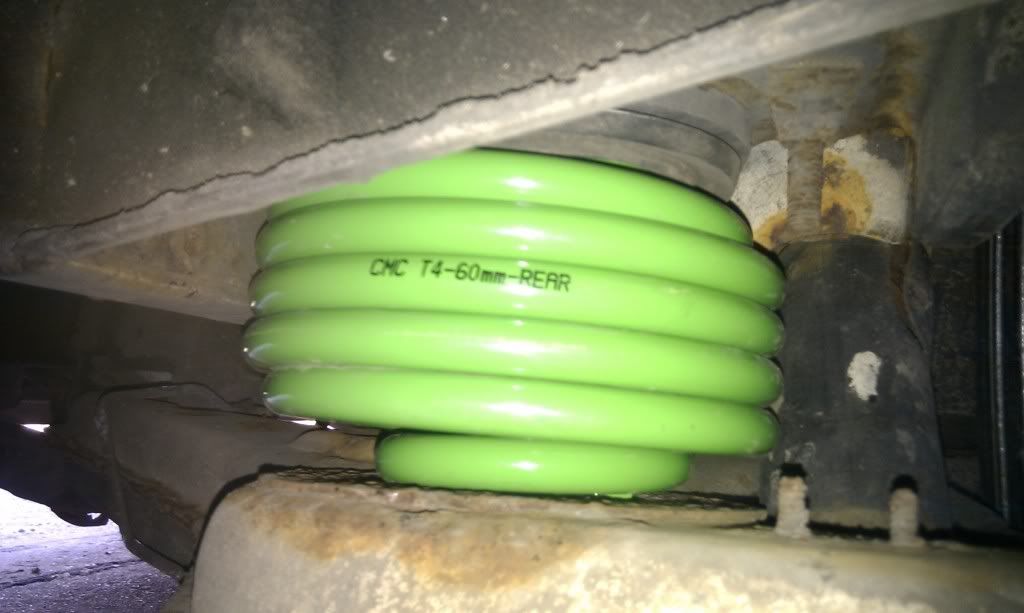 As my equipment can vary from job to job I knew these springs would be no good, even tried spring assister inserts which did help but I didn't want to mess about anymore especially as I already had the 2 rubber plates inserted!
So I got my money back from CMC, the guy never gave me an explanation about why he states the springs 'still carry 1200kg'.
I learnt the hard way!
Last week I fitted the Eibach springs, bit more money at £156 but well worth it.
As I said above the unloaded drop was 25mm bringing it to exactly the same as the CMC -60 with 2 rubber plates helping them.
So both springs unloaded the ride sat at 380mm
Here's a picture of the Eibach springs with 664kg! (remember the CMC springs bottomed out at 611kg)
In the second picture you'll notice the smaller pigtail springs are no longer in use and the weight is being taken by the thicker rings. The thicker rings on the CMC springs are bunched together just by the load of the van.
The ride on both springs whilst unloaded is very good, when both are loaded with 550kg the CMC hit the bump stops often, the Eibach on the other hand is brilliant. No hitting the bump stops and roundabouts I get so much less of a lean!
Now I'll make you make the decisions what you would buy.............
(all figures were written down when I had the CMC springs and I have written letters between myself and the owner of CMC a couple months ago to back up what I have written. Maybe I'm being a bit fussy about what weights I carry and even CMC made a comment about my measurements when I said they dropped 70mm with 550kg ~
'Please try not to look into it too much after all a difference in overall drop of 10mm is hardly a massive amount in the grand scheme of things.'
Perhaps, but people want to know what their springs can handle don't they...........?)