this is how i tuned my 1.9td for around 30% more power
before doing this tuning mod i recomend you fit an intercooler for best results, and a boost gauge is aslo needed to set the turbo psi correctly.
start off by removing front grill and moving the rad forward to gain access to the fuel pump, there are plent of how to guides on the forum for this.
heres a pic of the pump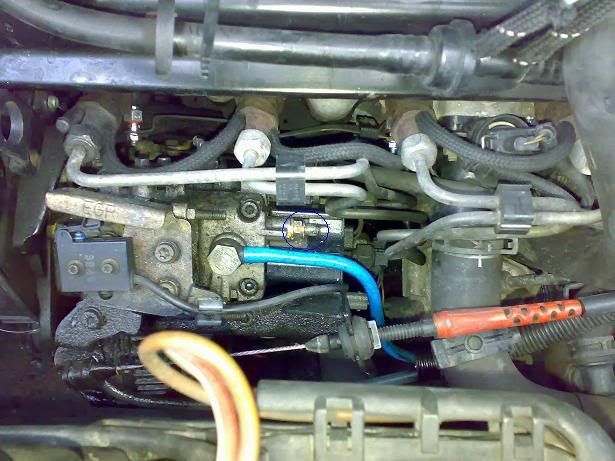 marked with the blue ring is the max fuel screw this will have a tamper proof cap/tab that will need removing, once removed crack off the 13mm lock nut, with the nut loose tuning can begin, turn the screw clockwise 20 degrees then lock the 13mm nut back up and go for a test drive you need to look out for a small amount of black smoke off turbo aslo watch your idle rpm when warm the first 20-40 degrees probly wont show much result so keep repeting this process until the desired effect has been achived, i ended up turning my max fuel screw about 180 degrees but it will be differnt on every engine, a small amount of smoke can now be seen off turbo and the idle rpm has risen about 300rpm.
now on to the turbo,
the idea here is to shorten the actuator arm to increase max psi to around 14-15 psi
first you need to remove the E-clip on the end of the arm [red ring] then crack off the 10mm lock nut [blue ring] then remove the arm off the pin on the turbo body and turn clockwise to shorten, theres no measurement here just keep shortening it and test drive to see what psi your running, mine was aprox five full turns to get it to 14psi.
if you have done all this correctly your van will be much quicker, the turbo will now spool up to full boost at around 700rpm sooner, and you will now be able to accelerate up hill in 5th gear
thank you
tom