Hey members, I bought some leather Saab seats for my T4 and when I collected them I didn't like the colour as was to dark for the rest of my interior.
I got a quote of £250.00 to change the colour and sort out some of the wear and tear and thought I'd have a go myself
After all, how hard could it be?
Well, I am going to share with you the process of turning leather seats like this (seat on right), into seats like this (seat on left)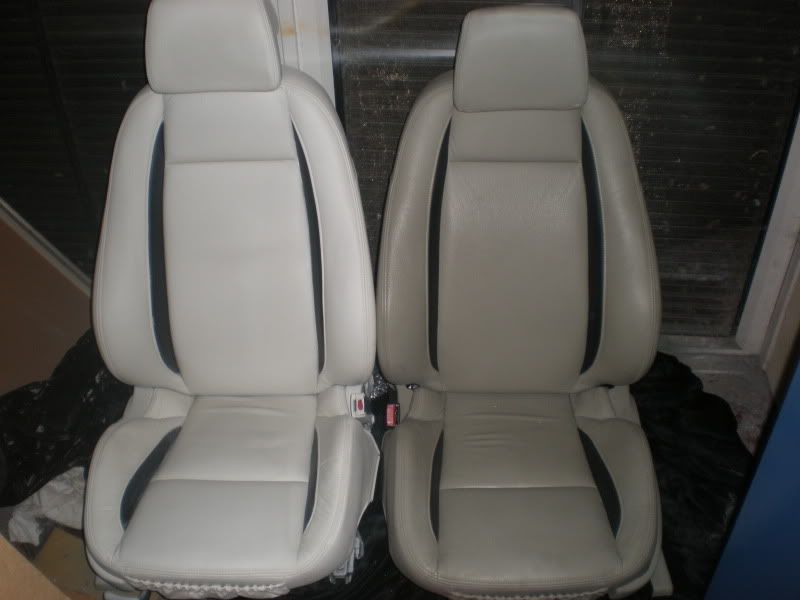 WHAT YOU WILL NEED:
1, Warm soapy water
2, A sponge
3, Leather colour kit. I got mine from furniture clinic, which contains every thing else
4, Patience
5, A hair dryer
6, Gloves (I didn't bother, a man thing)
7, Masking tape
PREPPING PROCESS:
1, First of all, I gave the seat/s a good thorough clean with warm soapy water and a sponge
2, I looked at the damaged areas and worked out if I would need to fill any areas (I didnt, so this step is not included)
The worst of the damage was on the drivers seat and looked like this..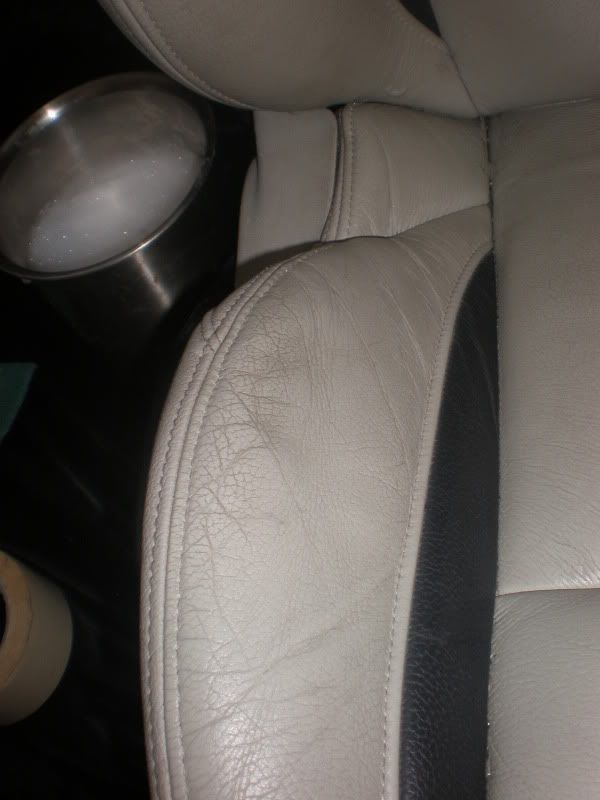 3, I cleaned the seat again with alcohol from the kit, making sure to get in every nook and cranny
4, With the Leather kit, It comes with 'Leather Prep' this smells like acetone or nail vanish remover.
They give you a couple of green scourers and some cotton wool.
You pour the 'Leather Prep' onto the cotton wool and fold the green scourer over the soaked cotton wool.
This prevents the liquid from seeping through the scourer T:
Give the seat a thorough rubbing down with the scourer until you start to see the leather paint appear on the scourer.
This means that you have removed the protective leather coat that is on top of the colour. Easy job and anyone can do it.
5, Another wipe down with Alcohol to remove any residue left over.
6, Dry the seat
7, Mask off any areas you do not want painted.
I didnt bother with the belt thing, as the paint wipes off very easy as its water based
APPLYING THE COLOUR STAGE 1:
1, With a sponge that is included in the kit, you pour a little of your chosen Colour onto it and apply it to the leather.
This is really easy and a little goes a long way.
You will notice that it looks really patchy.. DO NOT WORRY.. it is supposed to.
2, Dry with a hair dryer or leave 10 minutes if you dont have one.
3, Reapeat steps 1 and 2
4, repeat steps 1 and 2 again.
Depending on whether you are changing the colour or just restoring it makes a big difference to the amount of times you should repeat these steps. I'd say 3 coats with a sponge is good enough to continue.
Here is how patchy the colour looked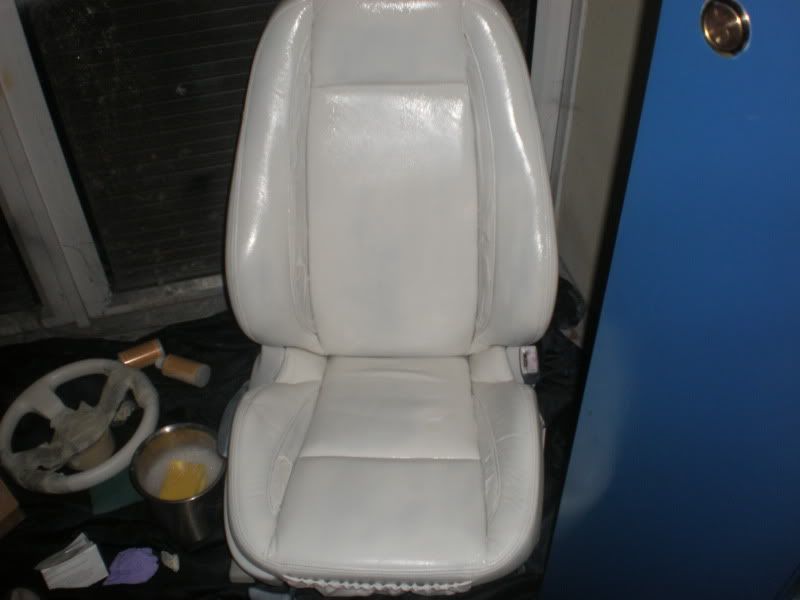 APPLYING THE COLOUR STAGE 2: (The fun part)
1, Make sure you cover any surrounding areas that you do not want covered in paint, because its AIRBRUSH TIME
2, Setup you Airbrush that is included with the kit and test pattern on card or back of seat
3, Apply a coat of paint with the airbrush
4, Dry with hairdryer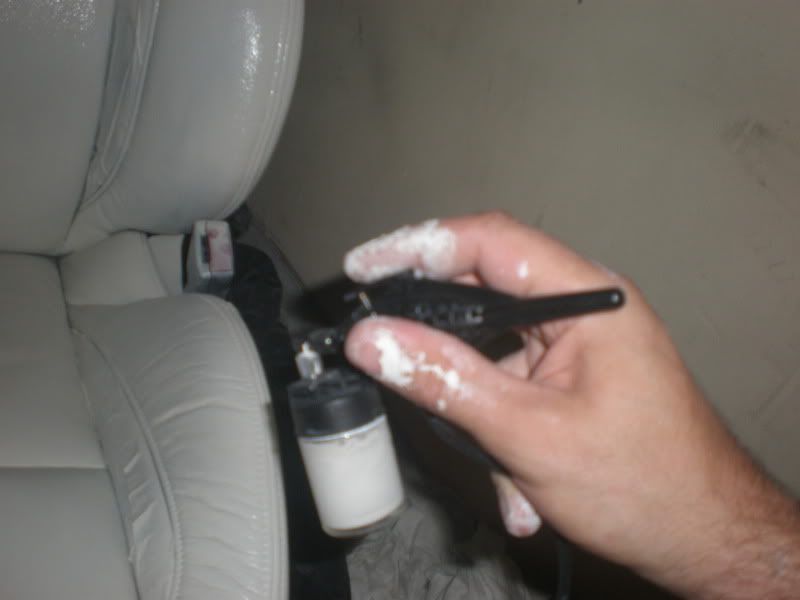 5, repeat steps 3 and 4 until happy with colour
APPLYING THE PROTECTIVE SEAL COAT :
1, Much like you airbrushed the colour on, you do the same with the Gloss seal coat.
I cannot supply pictures of this stage as was too busy at the time, but its very straight forward
Add a few coats drying with a hair dryer inbetween
2, Go make a cup of tea and admire your work
APPLYING THE FINISH COAT :
1, Again, same process
The final coat is a protective coat that you can choose the finish.
I went for satin.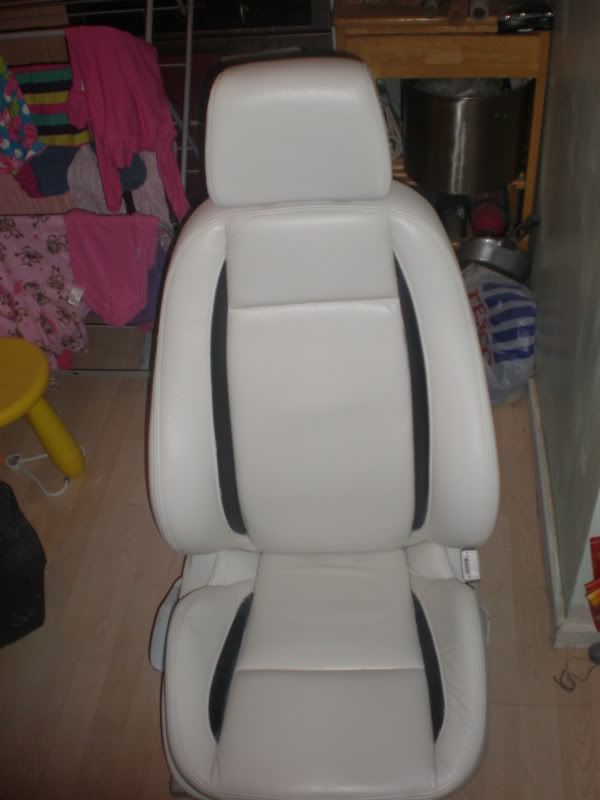 Think I will do my steering wheel, rude not to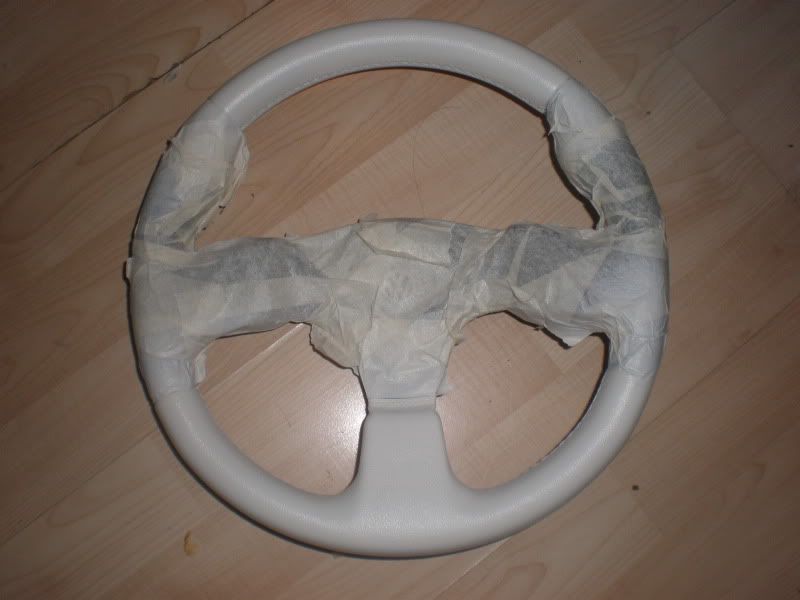 I am well happy with the end result, and honestly cannot get the pictures in the right light to show how great they really look.
Seats bought for 60 quid, Kit bought for 60ish quid
Extra airbrush cans as the kit didnt come with enough!! bought from Ebay for 15 quid
Cannot complain.
I will add some more pictures of any other stages when I do the other seat as wanted to do one at a time to have a comparison picture.
Cheers, Terry