Hi All,
Just getting round to put some info up on my latest T4. I thought T4's for me were a thing of the past for a while at least after having our little girl as my missus wasn't too keen on driving one. She only been driving for 2.5 years but after convincing or hassling her she caved and we bought this T4 from a guy named Richard on this forum.
It's now our daily driver, I also get a company vehicle which we both use so it's our 2nd car but still used daily. It's denty nature allows me to not worry to much about further dents.
The overall plan is to turn it into a 5-6 seater and use it as a weekend camper/utility vehicle. Cheap holidays and kid stuff!!!!!
Here she is on Richard's drive. Back in July 2014. It's Paprika Red but looks brighter in the photos in Richards ad.
http://www.vwt4forum.co.uk/showthread.php?t=377686
2.5TDi
110k now
Basic panel van, 3 seat.
Keep fit windows and mirrors
RS4 Alloys
Rear windows fitted already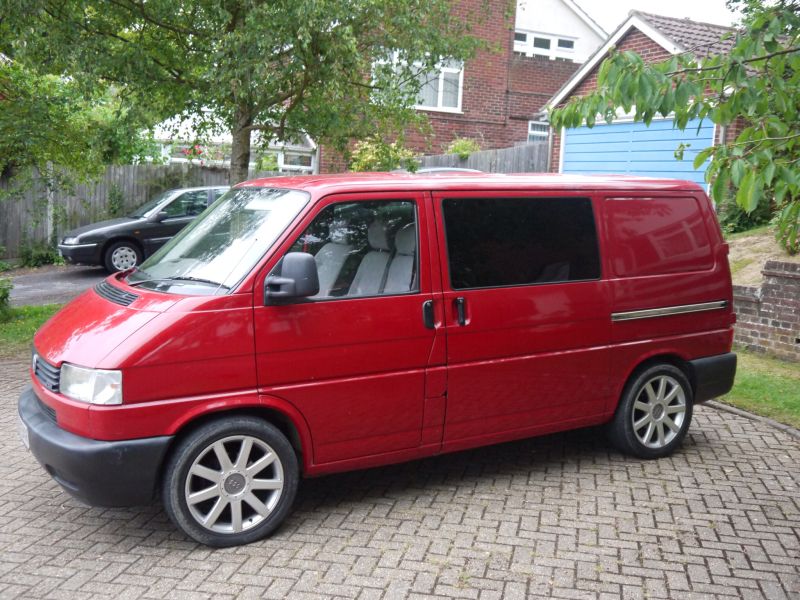 These pictures make the van look less 'denty' than reality which was a slight disappointment but not enough to stop the purchase!!!
I will take some more photos and update on my progress later.
GB