Sold
I have a rare as hens teeth Just Kampers Pop 365 awning, it's only been used twice once by the previous owners of the van at the end of last summer and once by us last week. I am only selling as the wife says she wants a bigger awning for all the toddler rubbish we took with us... I said it was fine we just need to take less..( we took his big bush chair, his trike, his high chair... Loads of toys and lots of other rubbish we didn't need!)
The awning was only available for a few months from JK as new they were stupidly expensive so they didn't sell many (£550 I belive new!)
The awning is 2.5m x 3.5m so it's not small at all! It goes up in about 5 mins tops! And uses a smart system of metal poles with joints that snap into place, the inner section is fully water proof, and then you put an outer fly sheet over the tent as well, this double skin helps keep the tent a bit darker in the mornings, cooler in the day and warmer at night. In the roof of the inner tent are 2 vents with fly screen that can be in covered, this helps keep things nice and cool. - we was camping with my folks and their tent was warmer than ours slightly in the day.
The tent is made from a rip stop material that has a aluminium coating applied which helps make it 100% water proof and again helps to keep it cool.
There is an inner divider that can split the awning into 2 rooms as well so one can be a bedroom.
It can attach to the van via the guttering pole and clamps included, or it has a 6mm beed for C channel,
There is a sun shade over the side opposite the van, and the end doors can also be opened and have a canopy over them (we used the end door, gave a nice dry patch to take shoes off the one day it rained.
Packed away it's approx 40cm square by about 1.2m long, so not massive, and you won't find a sturdier, quicker to put up awning!
All I am asking is £275 collected from Nottingham for this or £290 delivered to your door,
Here is how easy it is to put up! (It is easily doable in 15 mins on your own from start to finish)
http://www.justkampers.com/videos/pop-365-awning-167.html
Main side door from inside -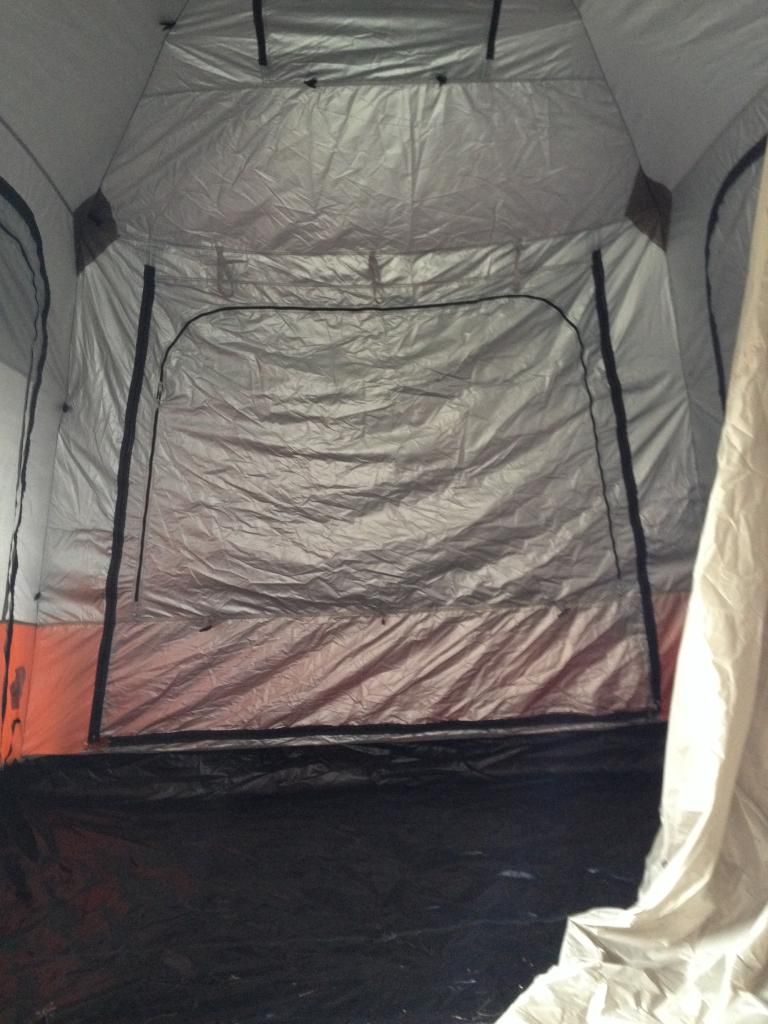 Roof vent