Discussion Starter
•
#1
•
She was an ambulance, Wife says amerlance so 'course was named Amber.
I'll update this as often as I can. I won't let it go stale here. Got step by step of how I did it on this PC somewhere.
Blurb facts first.
Weighs a smidge over 3 and a half ton. Mainly as I need a diet. But It's rated as a 4.6 so I didn't worry much about the weight.
About a year in the making on and off. She went from an old Glasgow ambulance to a reclassified Motor Caravan.
What's it got in there?
Oversized kitchen area, I like to cook. Toilet, a reasonable sized double bed. 2x 120w Solar panels. If I remember the watts right And the ramp at the back doubles as a bench so I don't cart a seat and table about. Plus its great for scenic views when its all open.
We were on a tight budget and built the whole lot for the princely sum of 1200 course not counting the price of the van.
We didn't want all overhead cupboards and stuff, I'm not a small guy I already bash my head in there so we kept it as open as we could.
So without further ado what's a post without piccies.
Here's the pics when we got it and the caravan we gutted to fill the van with.
After some ohh and arring taking out the fluro lights, overhead cupboards. Yep I did they weighed quite probably a ton and all the ambulancy roof bits. Forgot to do a very first picture.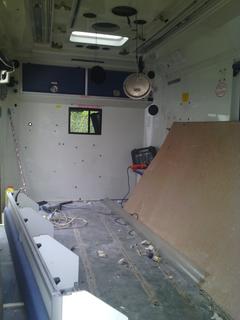 The donor van well and truly gutted 150 quid well spent.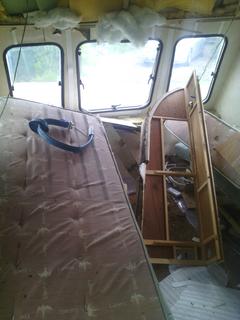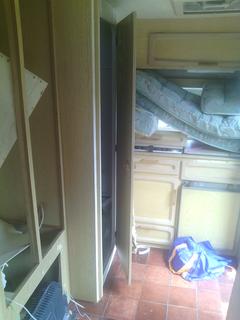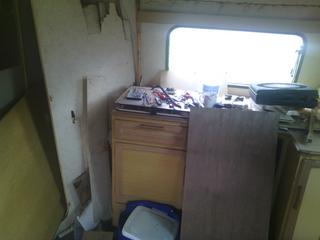 You get the idea with the open back here, this was In the beginning, 6 months later its changed, you'll see soon.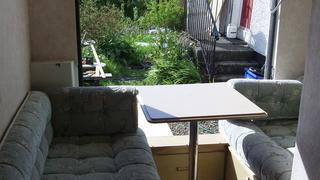 Next Step cut the bulkhead and lay the floor..