Discussion Starter
·
#1
·
At last after many months looking I bought my T4 Caravelle. Up to now have been driving a Toyota Powervan but that has now been sold at a profit( first time i've made money on a car !)
Trying to think of a name and jokingly suggested Lewbert (icarly kids programme) to which evryone laughed and agreed....to my horror, me and my big mouth
The van is a 1994 1.9TD CL8 Caravelle. Purchased on fleabay for more than i wanted to pay. But on collecting it and tyre kicking, umming annd aarghing managed to get it for £325 less than final bid
. Only time will tell if there are horrors lurking underneath the quick blow over paint job. 450 mile round trip and the van was on the drive. A:
The plan is to keep it as a velle with all the seats to allow us to go camping, days out with the mountain bikes, and with all seats reomoved trips to the tip, DIY ( not very often i hope) and carrying my XR enduro bike around the country trail riding. A:
The van the day i got it home......covered in road dirt and bird *"£t.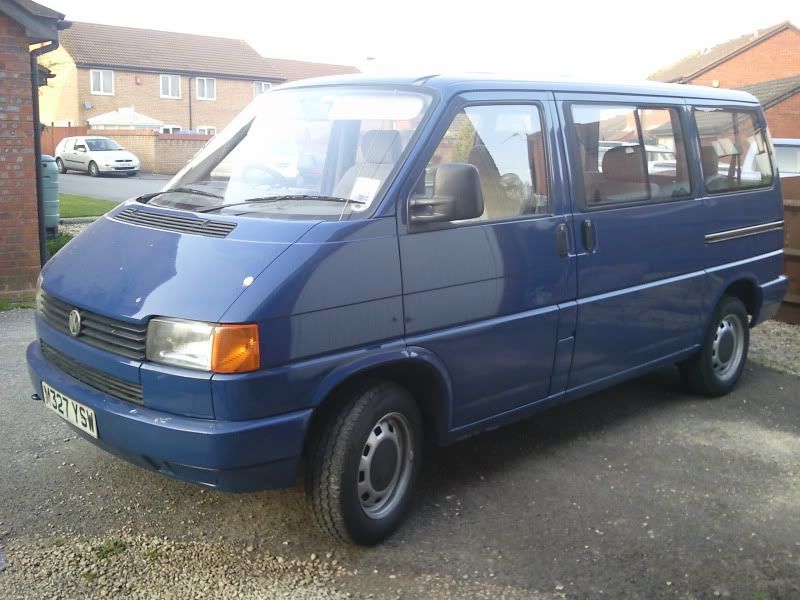 After a wash and polish. Great improvement.
The list of things i want to do are getting bigger by the minute. But budget means they mods will be done as and when finaces allow.
First job will be to do a service and make sure its theres not nasties under the bonnet.
Cant wait to start