This is my van as I found it on ebay.
It is the 2.5TDI 102bhp
and heree she is in her urm.. glory :dunno: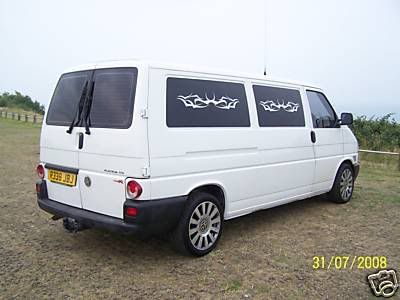 The CB radio and aerial wasnt included in the sale but the holes where it mounted on the dash were
Apart from that the intrepid graphics are coming off when it stops raining. so it a silly type 'r' badge on the back door, and then from there the rectification and modding will commence H:
Not alot will be happing for te next week or so as I have my :c tr :c it to sort out to sell. but as soon as its gone all hell will break loose near enough.
But main plans are....
Remove graphics/silly badges
remove eyebrows on front lights and fit HID conversion
Replace rear lights
Colour coding bumpers and mirrors
Fitting electric windows
Fitting central locking
upgrading the alarm
Upgrade the clocks(speedo) to later type
Debadgeing smoothing out some body bits i want to change
Then it will be project power starting with move the intercooler, cone/panel filter and remap included.
But before all that i need to sort out the air filter and heater for the cab because...
The heater is stuck on hot and the filter in the engine bay as no houing/cowling and the filter is hanging off so when I give it the beans so to speak I can smell the distinct smell of exhaust fumes in the cab.
So if anyone could tell me which part numbers I need to rectify the filter housing I would much appreciate it! I spent 4 hours on etka last night trying to find it but no cigar!!
Cheers
Mark