Discussion Starter
·
#1
·
Fitting fold down seat / beds is top of the Forum Topic Hit List for van owners who wish to build a Motor Caravan or Day Van, and it has attracted much debate over the years.
Much advise has been given to owners in good faith, but we felt that some extensive research into the subject wouldn't go amiss, for everyone's benefit...
What we have unearthed surprised us all...
We have attempted to cover all angles, as to the why's and wherefores, and we have attempted to give you an impartial view of the actual state of play so far as UK law actually stands, bearing in mind that what goes here may not necessarily be the case in mainland Europe and Scandinavia, should you wish to venture overseas.
We hope that the following information goes someway to explain the concerns regarding occupant safety that some forum members have expressed in the past...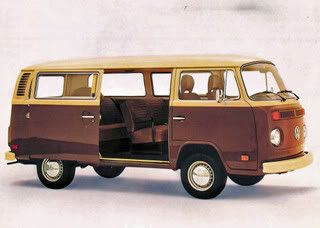 A 1979 T2 Station Wagen (the US version of the Microbus) devoid of rear seat belts - the fixing points are there but they are hidden). Like the T4, T2 and T3 Panel Vans do not have seat belt points in the rear either.
One would hope that straped in occupants would become one with the vehicle - unrestrained, they tend to keep going at the same rate and direction that the vehicle was travelling during an emergency stop (or worse) hence the need for Type Approval tests for new vehicles. This illustration shows the frequency of the more common collisions.
This sort of information has been gathered over many years of development (we can only scratch the surface here).
In many ways occupant safety has been politically driven, but manufacturers such as Volkswagen have been at the forefront of passive and active safety system technology for many years.
However, before a vehicle can be put on the market anywhere in the world it has to meet the criteria for each country, in which it is to be sold, by way of Type Approval.
Manufacturers and specialist fitters are legally and morally bound to put every effort into making vehicle occupants safe - they have to keep abreast of all the latest - and upcoming - rules...
... despite all this, the retrofitment of seat belts into your own self-built camper conversion is entirely voluntary!