Discussion Starter
•
#1
•
Hi,
I'm new to this forum - thinking about getting a T4 and converting to a dayvan. The only problem is we have 4 kids and this will be an everyday car so need to seat 6 comfortably and safely. I'll be using this for camping as a couple and also to take the lads to MTB races so need to be able to configure with a large load area from time to time. So I don't want to fix a full width rock-and-roll in the rear. Also, I'd like a comfy bed.
The options I have found on this forum are:
Caravelle 3 seat bench on rails, no side kitchen
2 x Bongo 3 seat bench on rails, v. narrow kitchen
3/4 width reimo/rib/variotech 3-belt seat (£3000? no way!)
But, the other thought I had was how about 2 fold-into-the-floor seats like the rear ones in a Zafira, mounted perhaps behind a fold-forward/flat 3 seat bench that can tuck up behind the front seats when needed? A Zafira must be a little narrower than the T4, so perhaps a narrow kitchen would work too?
http://www.ebay.co.uk/itm/VAUXHALL-ZAFIRA-2009-MK3-REAR-SEAT-7-SEATER-/280924293680?pt=UK_CarsParts_Vehicles_CarParts_SM&hash=item4168648a30#ht_720wt_1054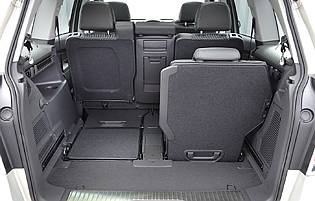 I'd need to raise the floor area a bit around the fold flat seats to make a flat load area, but this could create some useful storage spaces. For sleeping I guess I'd combine the 3 seat bench folded out flat with a padded rear shelf arrangement.
Can anyone see any problems with this idea and has anyone seen any examples of this being done?
Any other cunning ways to get 6 seats into a dayvan?
Thanks! Chris