·
sc vw customs 1.9tdi convert
Discussion Starter
·
#1
·
Have a pair of chopped down bases here......been messed about by a customer so now selling on...aint waiting any longer...
These have been chopped down by a coded welder by 40mm.....smoothed,dressed etc....no sign of chop on outer surface at all...
Blasted and powder coated in yellow (bright i know,but customer wanted this colour...now been given the bump)
These are pre 96 bases with the tabs removed,ready for aftermarket seats.....perfect for these or swivels...
These are boxed and ready to ship via tnt
Looking for £140 the pair shipped...plus your old bases back,shipping will be paid for my end,once they are packed and ready to uplift...(bases must be un usuable condition...pre or post 96 fine)
This works out at less than £60 quid each....check out the prices of them on ebay,made from some 2mm steel etc...fabricated...remember these are genuine bases,they have even had the sides welded up for a neater finish...
Ready to go....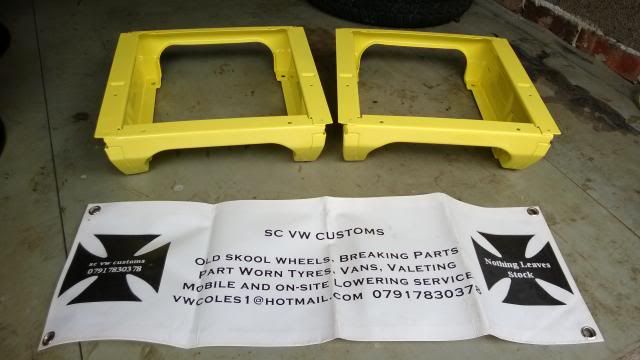 Get your self sitting a little lower more GTi style....
Cheers simon
07917830378