Hello forum,
It gives me great pleasure to finally write this thread / article !
Introduction
A little bit of background first. Project Power was started some 3 and a half years ago by vanbling (Adam) and myself and has enjoyed great success with the people who have chosen to follow the path. The Original modification had Bosch injectors and our Project Power injector nozzles at the heart of the modification and resulted in power outputs in the order of 150 bhp up to 172 bhp on some vans. The original PP can be found here :-
The Project Power 150 bhp Process - Click
The object of Project power was not so much to produce a culture of so called boy racers, but to give the UK community the opportunity to enjoy the same power as our friends on the continent who have a stock 150 bhp model available to them which was never sold in the UK. Dont get me wrong - boy racer types also enjoyed the mod very much but it has much more of an audience, including camper drivers, everyday drivers and commuters alike.
Once through the process a correctly modified vehicle could over take up hills, acheive the speedlimit and above on hills in 5th gear, overtake alot more effectivly and become a generally more driveable van in all conditions. For those interested 0-60 times are in the order of 11 - 12 seconds by comparisson to an average of 16 seconds for the unmodified equivolent. Furthermore the economy is improved in many of the vans done.
Project Power 2 or PP2 Explained
The main drawback of PP1 was the cost invlolved for the owners of 88bhp models.
For the 102 bhp ACV coded engine the modification was simple and cost effective as the 102 already sports the bosch injector. Therefore to get a 102 to 150 bhp and above, the only cost was and still is - Replacement PP Injector nozzles and a remap at our partner mapper
www.chipwizards.co.uk
- total cost = £550.
for the 88bhp AJT model however there was an additional cost. The injector bodies had to be purchased as well as the PP nozzles, high pressure fuel supply pipe intercooler and remap. By comparisson the total cost for the 88bhp was £210 more expensive due to the need for the bosch injector bodies. A further £62 is required for the fuel supply pipe and an intercooler would be required also at a further cost.
What you got for this looked further £210 is illustrated below - and is still available for those who preffer the Bosch solution.
Please bear in mind that the extra £210 only applies if you dont have exchange injectors.
If you send us your old injectors back then the cost of PP1 is actually £265 !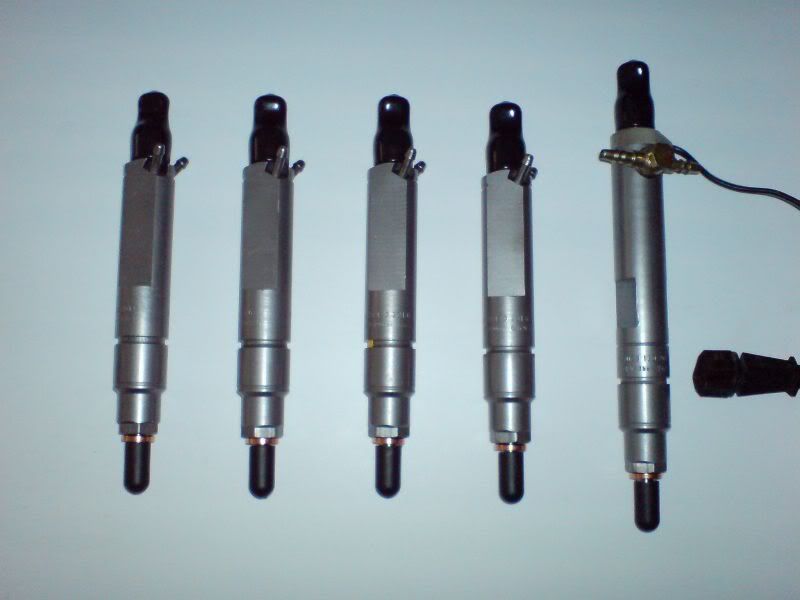 In PP2 we have removed the need for the Bosch Injector bodies entirely. In association with our partener, who has over 25 years of experience dedicated to diesel fuel injection, we have developed a modification to the existing Stanadyne injector which results in a simillar power output after remap for half of the original cost.
We have spent months developing this mod and it now gives me great pleasue to make it available to the community.
A Little about stock Vs. Modified Injectors...
The stock Stanadyne injector often produces poor spray patterns and atomisation profiles when test out of a van bearing any significant milage. The tips are often pitted and the holes often blocked which results in injectors that drip fuel and dont seal effectivly, and therefore dont perform as they should.
Once modified the same injector will produce better spray pattern and atomisation then when it was new and will also flow more fuel. A modified injector will continue to work in this way for the rest of its dutiful life.
Furthermore we have honed the fueling so that when you install your newly modified injectors there will be very little or no smoke at all. This allows you to run them for as long as you like before remapping the vehicle with no risk of coking up the intake or reducing the performance of the engine in the long term.
Other benefits include the fact that the stanadyne injector is a single stage incorporating just one spring as opposed to the Bosch injector which has 2 opening pressures and bears 2 springs. All in all simpler and less to go wrong (not that we have experienced any failure with the Bosch type).
What Gains are to be expected ?
OK now to the meat of the subject, What do I get ?
Unlike PP1 where bhp figures jump by some 30 bhp on insertion of the injector / nozzle, PP2 is more subtle. On insertion of the injector one can expect a bhp increase of 10 - 20 bhp.
The main gain is delivered on the remap where we have seen upto 150bhp produced. As more people go through the process we will update that figure.
The 150 bhp figure is a guideline and is based on a vehicle that bears a good intercooler , VW or aftermarket and is in good running condition in general. Milage is not an issue.
Further Considerations
EGR Blank - the EGR blank prevents exhaust gas being recirculated and therefore provides more air for the fueling. This is a good modification worth perfroming but it is not necessarry.
Decat - Another good modification as a blocked cat can affect gas flow through the system which should be optimized for best results.
2.5 inch Exhaust - Another good modification that helps with gas flow but also not necessarry.
Induction kit - Some people have reported good results others no change. IMHO the stock system is enough. Its up to you.
What do I get and How do I get some ?
What you get for your £290 are :-
5 x Modified and reconditioned Stanadyne injectors - See image below.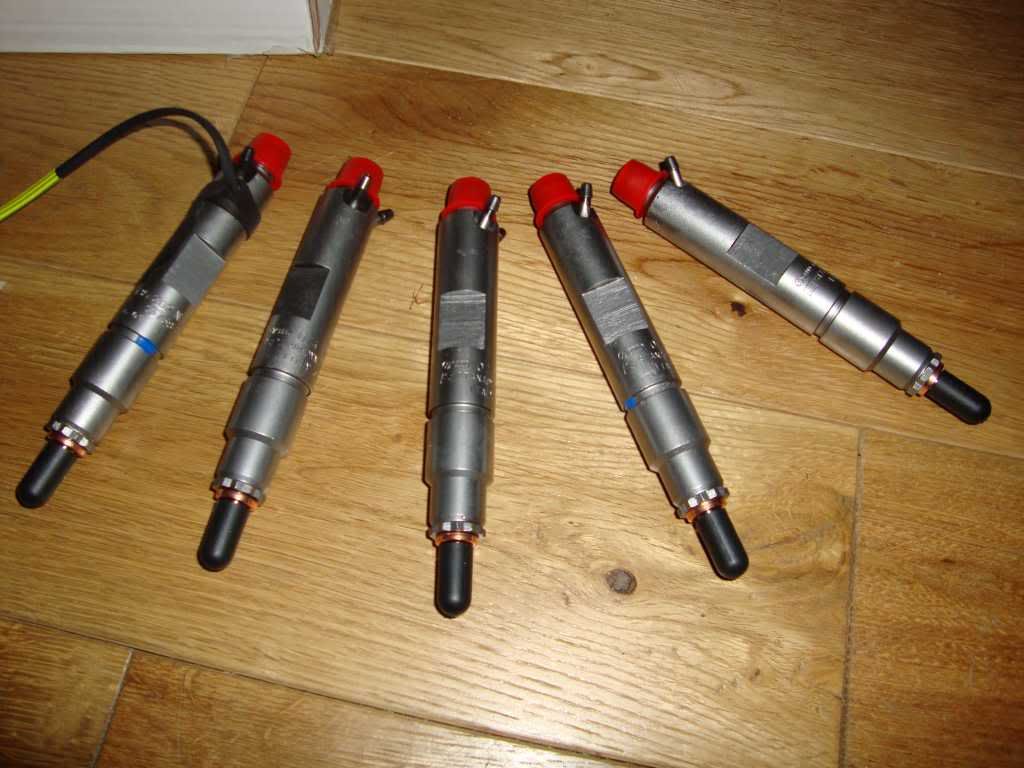 How you get them is as follows.
We operate in 2 ways.
1) Send in your old injectors and we will return them as pictured above within 3 days time.
2) Order an exchange set and return your old injectors to us within a reasonable time. (lead time may apply depending on how busy we are).
Conclusion
Bang for the buck we beleive this to be the best power modification available for the 88 bhp T4.
Fueling has been improved and no smoke is expected on installation. Following the remap smoke levels are no different to any other correctly running diesel vehicle of the same class.
Power output is in line with PP1 with less outlay, effort and work.
The 88 bhp Project Power process price has been halved !
The required expertise, support and advice is present and we are backed by a fully fledged bonafide fuel injection company.
Thanks for reading, please post any questions freely and finally I will endeavour to update this post as required.
Some of the initial experiences of PP2 users can be found here -
http://www.vwt4forum.co.uk/showthread.php?t=43763
I am very pleased to announce the Greenlight Insurance can now provide insurance for Project Power Vehicles up to 180BHP !
I myself have taken one of their amazing polices - unlimited modifications and up to 180bhp fully comprehensive for an astounding price.
Please visit their site and select "Project Power" from the drop down box when insuring, or mention Project Power on the phone.
Best regards
Ron.