My van was sitting too low
after fitting a set of higher profile 45 tyres which replaced the original 40 profiles so started rubbing when i carried any weight so i fitted in a couple of additional "spacers" which gave me another few mill height without ruining the slammed look!


Here's a qucik guide which might help someone remove and replace their springs
IMPORTANT- ALTHOUGH THIS IS ONE OF THE EASIER THINGS TO DO ON A T4 IT CAN GO HORRIBLY WRONG- YOU MUST HAVE VAN ON A FLAT SURFACE, USE AXLE STANDS AND CHOCK OFF YOUR OTHER WHEELS TO STOP IT ROLLING OFF STANDS!!!!!!

WATCH OUT FOR SPRINGS UNDER TENSION AND KEEP YOUR HANDS/ HEAD/ BODY CLEAR OF THE VAN JUST IN CASE- NO NEED TO BE UNDER VAN FOR THIS JOB!
I Jacked the van up as high as i could, and put 3 axle stands around at the same height to make sure van didnt move.
Make sure you put stands at jacking point/ reinforced load bearing points (such as chassis members)- NOT on the swingarm-
this has to move freely (i did remove the jack shown here- honest!)->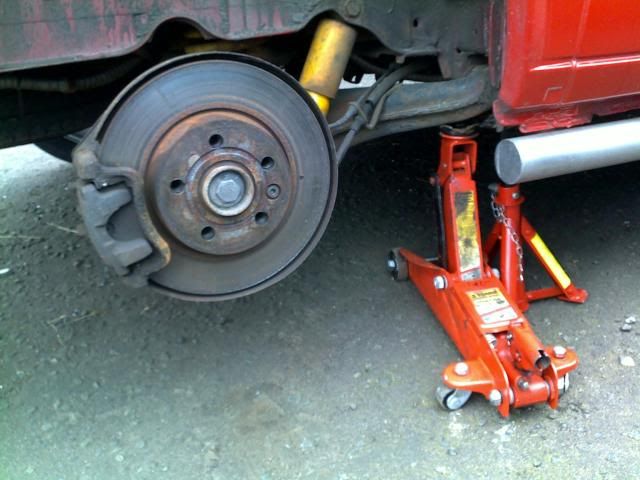 I then chocked off the front wheels.
I suggest only doing one wheel at a time..I:I:
Take off your wheel and locate the 17mmnut fixing the bottom of the gas strut/ shock absorber-
HERE->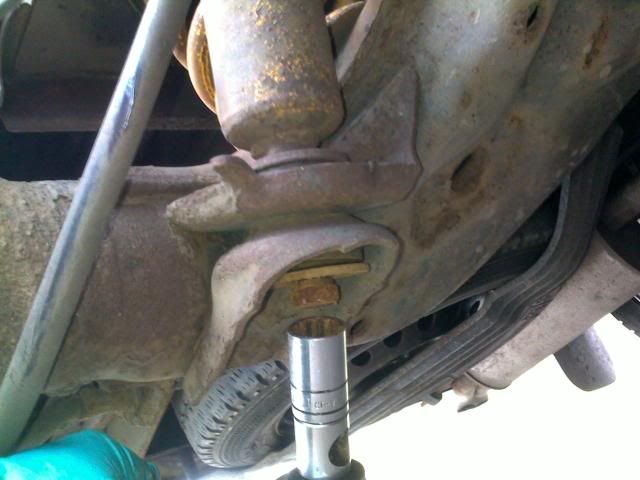 Undo it and this should happen (the swingarm will drop down and spring should pop out pretty easily)..
->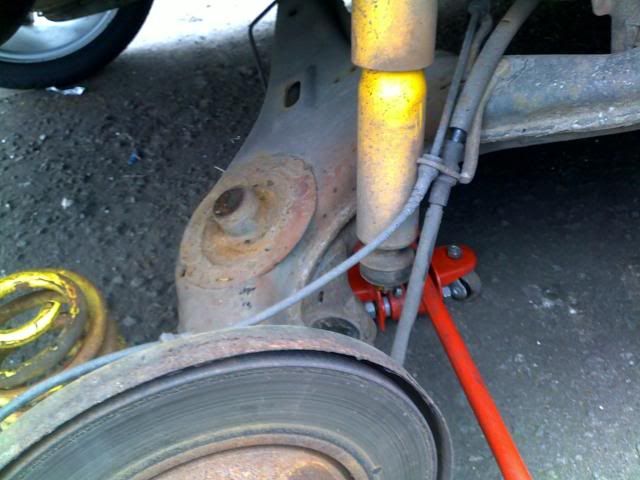 If it doesnt, you might not have the van high enough on the stands or something is restricting the swingarm from moving down......
Make sure the bump stop hasnt popped off (black dome shaped bit of rubber on spring mounting point).
Note the spring plate shown- springs sit in a notched groove in this which gives some protection to metal underside of bottom of van body.
Replacement springs should be put back on in reverse order that originals taken off.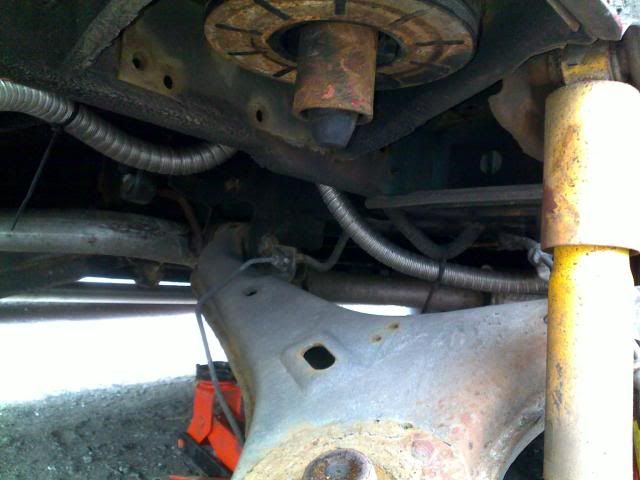 I found it easier to put a jack under the swingarm and hold the spring up towards the van underside while jacking slowly to raise the swingarm up to lock the spring in place.
Dont jack it up too far just enough to stop the spring jumping out again which lets you slide the spacer plate round to sit the spring in the notch AND- you still need to relocate the gas strut!
Move the strut over to locate the hole on swingarm and jack up the swingarm again just enough to start compressing the shocker- it will make fitting and tightening the nut and rubber removed in first step just that bit easier T:
TIGHTEN EVERYTHING UP PROPERLY AND FIT WHEEL, ENSURING ALL NUTS ARE TORQUED UP PROPERLY
Once the van is off the stands and safely onto the wheel- do the other side- EASY!! T:
i took it for a test drive and re-checked all the nuts bolts etc just to be sure..
Hope this helps.