Discussion Starter
•
#1
•
Hi, I would like to upgrade the speakers in the dashboard of my Multivan. I already bought some 10cm coaxial speakers (Pioneer TS-G1020F) to put in, but I'm not sure about how to replace the stock ones.
I managed to get the speakers themselves out - they are tweeters, which were clipped into a plastic base. I took some pictures of my own but I found this much clearer one online: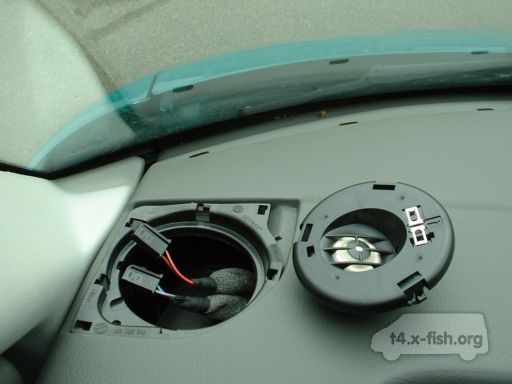 (picture taken from
https://translate.googleusercontent...700205&usg=ALkJrhhVzmHN3BOMoWuRiNqDlLvIzRoTEw
)
The circular hole in the plastic is the right size (10cm diameter), but there are no screw holes in the plastic that I can screw the new speakers into.
What is the next step? Should I try and remove the plastic (if so, does it need to be done destructively or is there a trick to it)? Otherwise, should I just try and fit the speakers as best as possible?
All suggestions welcome!