I'm having my annual clearout of bits and pieces, (see other threads).
This is a brand new, boxed
Sony CDX-GT200
fm/mw/lw radio and CD player.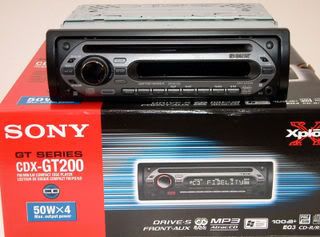 It was bought new by me and fitted in the van for a couple of days, but it has so many buttons and menus on it I prefered the simplicity of the VW standard cassette player and so took it out.
Theres loads of functions on it, a selectable rear / subwoofer preamp output, and front AUX socket for connecting an MP3 player to it amongst others T:
It has a removable front panel, and protective case for security and the panel illumination is red to match the later red/blue dashboards.
It is ready to fit straight in with all wiring harnesses , manuals etc.
£45.00 plus postage.