Discussion Starter
·
#1
·
Just changed the spare for the first time in 3 years, never needed to and an inspection previously showed the spare to be new and still have those little bristle things on the surface of it.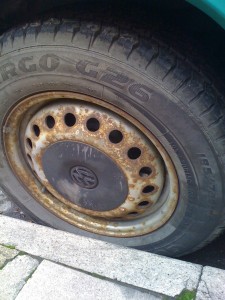 As you can see, this is a much neglected spare, and if you look closely you can see the indentations from the spare wheel carrier rubbing against it for the last 150,000 miles!
Also learned a lesson or 2 during changing out the old wheel, due to perished valve stem failing on me. Lesson number 1 is obviously don;t just trust your spare wheel to be OK if you've never used it before!
Lesson 2 is when the garage put on your wheels after anything, make sure they use a torque wrench to tighten up correctly. Muppet at my 'old' local garage must have just applied an airgun until it screamed.
Lesson 3, invest in a decent torque/power bar so if you do get shafted by someone over tightening your wheel nuts you stand a chance of being able to get the wheel off on your own.
Thanks to my Brother, his mate with the power bar and none at all to the garage I won;t be using again!