Hello fellow T4 owners,
Probably a long shot on this.
I bought Van-X T4 Side Door Step (
Passenger Side Loading Door Step for VW T4 Transporter EXTRA DEEP 17mm ABS
in June as part of the conversion.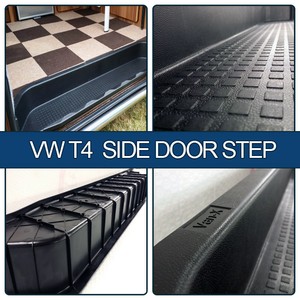 The quality of Van-X step is as excellent as the genuine step. However, the step is much higher than I expected (I tried to pack it under the lip but still noticeably higher). I leveled the floor with 6mm packers to the ridges, then 9mm ply floor and 3mm Altro flooring. I miscalculated it'll be 18mm from the floor but it's in fact only 12mm. Hence the 17mm Van-X step is too high... It would've been ideal for 12mm ply floor from the ridge level.
So I wondered if the original VW step would be more suitable for our van. I would have kept it happily if it fitted perfectly.
Is there anyone locally in Hampshire who wouldn't mind me try the original step (in grey or black) and if suitable swap with the Van-X step, please?
Many thanks and happy motoring!