Hi everyone,
I'm a new member and proud owner of a X reg T4 1.9td with 84k on the clock. Love the van...but experiencing a few worrying problems. Everyone on here seems very helpful and friendly, so I'm hoping somebody can give me some advice!
A few days ago my van refused to start in the morning. This is just after the snow had gone, 2 days previous it started fine even when sat for 8 hours, covered in snow.
It turned over no problem, just wouldnt fire up. Being a bit of a ass, I continued to try until the battery started getting a bit weak. I got my mate involved (who actually knows what he is doing) and he connected some jump leads to my van. Tried again....turns over fine but still not starting. Glow plug light goes off after the usual time, about 10-12 seconds (thats right....right?!).
We tried to figure it out for about an hour, that involved signing up to this foum and reading anything that could be related. One suggested a spray of wd40 up the air intake (in replace of easy start). We tried that...but it didnt work. About ten mins later it decided to start. We left it running for ten mins, switched the engine off, let her stand for ten mins then tried again and she started fine. Again, being an a bit of an ass (and also a bit of a novice when it comes to engines) I just thought it was one of those things. Just stoked to have my lush new van working fine. She drives like a dream, when running...
I drove to a mates about 20 miles away, where I stayed the night. In the morning the van wouldnt start again. I called the RAC, and when they turned up the guy seemed pretty stumpted. He sprayed a bit of easy start, and it started straight away. He suggested I get myself some, and take it to a garage.
I have booked the van in for next wednesday, useing easy start to get going when the vans been sat for more than a couple of hours. BUT just been told today about the risks of easy start...."its like crack for cars" were the exact words! So now very reluctant to rely on it!
Does this all point to the glow plugs?
Also, not sure if its just because I'm new to owning a van but it seems to be drinking a hell of a lot of fuel....50ish miles to a tenner, thats about 20mpg isn't it?! That seems a little low to me? Especially as the back is empty!
The oil light sometimes comes on and beeps when I start the engine but after a few revs it goes out (checked oil level and is ok). The temp gauge sometimes works but usually it doesn't.
Are all these seperate issues or could they be related in some way?
Sorry for the epic first post! The vans going to be used for my band and the odd surf trip....already had to postpone 2 band practices
Here she is: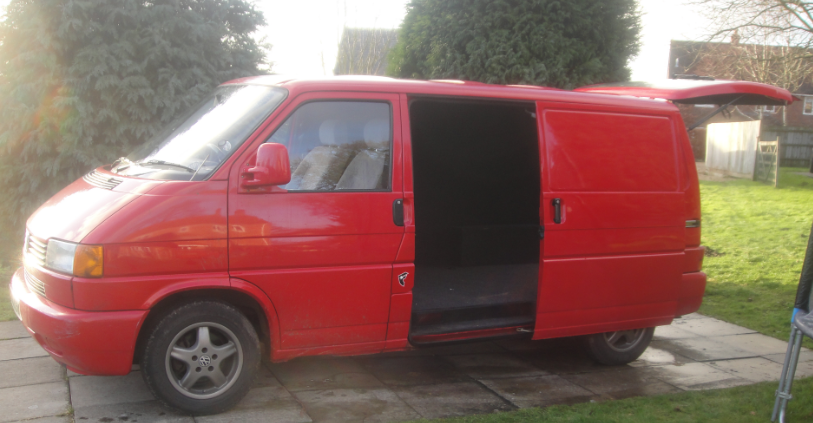 Anybody have any ideas? :ILU: