*** Updated 10 Feb 2012***
Selling Price - £12,500
After two fantastic years of ownership I have decided to sell my T5, the reason being that I had such a good time customising it I now want to do another one!! I guess I'm a sucker for punishment. His name is Juan (the Van), and in the Spanish Armada sense, has been given a little bit of a pirate theme! Anyway, without further ado, here are the details of the van:
The VAN
2006 (56) VW Transporter T5 T28 2.5 TDI 174PS Panel Van
1 previous owner from new till Nov 2009 when I bought it (a gas bottle delivery company)
Indian Blue
95000 Miles
Barn doors
Air conditioning
Electric windows and mirrors
Cruise Control
Driver's captain's seat, passenger folding bench seat
Full Service History from new (with all paperwork for servicing and parts that have been bought for the van)
Major service at 88650 (28 Jun 11)
New driver's CV Joint Jan 2012
Brand new Pagid Brake Discs and Pads all round (22 Aug 11)
Full brake system fluid flush & bleed, with fresh fluid (22 Aug 11)
Air conditioning service incl new motor, flywheel and belts, and full recharge 28 Jun 11 (now literally ICE COLD!!
)
Brand new Bosch 110 aH Battery (4 Feb 2012)
The MODIFICATIONS
BMW M3 replica 19" alloy wheels, load rated at 690 kg per wheel and not kerbed with 255/50 R19 Toyo Proxes load rated tyres with min 4mm tread on each tyre
Tyresure tyre pressure monitoring system, hardwired to ignition controlled 12V supply, see here:
http://tyresure.com/
Ultimate Transporters' lowering springs (-40mm)
Ultimate Transporters' tinted side windows with Exploria Moterhomes' fibreglass window frames
Pendle Performance re-map to approx 210bhp (not sure exactly as not been on a rolling road, but Martin assures me it is a fairly accurate figure given his previous customer's experiences)
K&N reusable air filter
JVC double-din head unit, with DAB digital radio (using powered aerial on roof), bluetooth phone connectivity (microphone mounted next to driver's sunshade) and USB in for iPod/hard drive/flash drive with full menu-tree control, and remote control
Ignition controlled 12V socket behind glovebox for hardwiring satnav (no need to splice wires)
Custom made blue hardwearing seat covers for driver and passenger seats
Fully sealed using flash tape on every possible surface (roof, walls, doors and floor)
Layer of aluminium backed bubble wrap (not sure of correct term) on every possible surface (roof, walls, doors and floor)
Recycled plastic loft insulation (all sealed to prevent moisture getting in) in every cavity
VW OEM Plywood lining
Blue ribbed carpet covering all walls and doors
"Jolly Roger" roof lining in rear (this can be easily changed if not to new owner's taste!)
Cannon's Forge full width rock and roll bed, with 3 inches of standard foam and a 1 inch memory foam top-layer, 2 x 3 point seat belts, hard wearing grey cover with "Jolly Roger" edge trim
Black and white check linolium floor
Leisure Battery with split relay from main battery, 240V inverter with 3-pin plug, USB socket and 12V cigarette lighter socket in rear
Roof rack preparation rail on passenger side (in gutter) for fixing awning onto van (using figure of eight rods)
Brand new Westfalia swan-neck towbar with 7-pin electrics (fitted Jan 2012)
Optional EXTRAS (can be negotiated into selling price)
Outwell Country Road Awning with zip-in base, detachable bedroom, carpet and base-protecting groundsheet.
Outwell canvas collapsable wardrobe, with 3 shelves in each compartment that can be unzipped to hang clothes
12V cool box (will cool stuff down over time, but keeps already cold stuff cold for ages)
Juan's Pirate Pet Parrot - 'Maui Jim'. He lives on the dash and I'm prepared to let him go with Juan, but only if the new owner promises to look after him
The PICTURES
Please PM me if you want the original full-size versions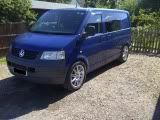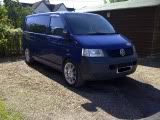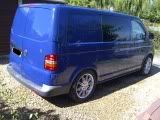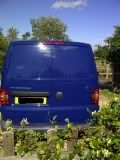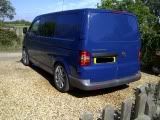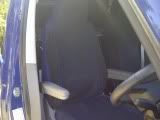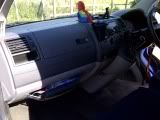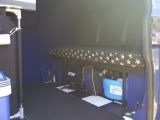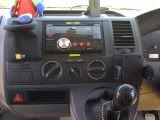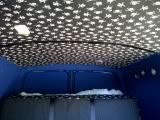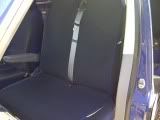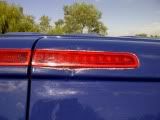 The GOOD and BAD POINTS
Good:
Juan is in great condition and drives like a dream. He's very powerful all through the rev range; he can either be driven fast, surprising a few cars at the turn of speed along the way, or cruise for hours and hours with ease and in great comfort. Of particular note is the pick up in 3rd or 4th for fast overtakes. Even when fully laden, overtaking slow traffic is very easy. I use this van mainly for travelling long motorway journeys (Edinburgh to Oxford), having done about 25K miles since I bought him. I don't use Juan every day, so he doesn't get run up and then turned off before he has had a chance to warm up properly. Whenever I drive him, I use cruise control as much as possible, and have never been uncomfortable even on journeys of 6 hrs plus, which I have often done. Juan is currently based in Ripon, North Yorkshire. I got the Pendle Performance remap because I wanted better fuel economy. Hard to believe, but true. I was averaging 30-35 mpg beforehand, and now get 35-40mpg, often getting 40+ on a purely motorway run: he revs lower due to the increased power and the larger wheels give a larger rolling radius. The bed is EXTREMELY comfortable! Both my girlfriend and I often joke (but with genuine sincerity) with friends that we would often rather sleep in Juan than our own beds as Juan is more comfortable!
The tyres have been on the van from when I bought it, and given that I have driven 25K miles on them already and they're only half worn (6mm down to min 4mm all round), that indicates to me that with careful driving like I do, there should be another 25K left in them. They're also great in and around muddy campsites offering bags of grip, and they were a dream in the snow for the last two winters. Finally, other costs are low. Tax is £210 per year. Also, insurance costs me about £400 fully comp with all the mods listed and the Van is Euro 4 compliant, so won't be affected by the new emissions control zone in London, and other cities when they spring up over the coming years.
Bad:
There are only two real bad points and that is me being genuinely honest. First, my friend (still!) courteously reversed into a tree for me, so there is a small dent on the top of the rear right barn door (see photos). I replaced the light (as that took the brunt of the impact) and sealed the small gaps with silicone sealant as I didn't have the correct tools to bend it back properly without damaging the paint. I have looked at both options of fixing it. The dent could be bashed out and although it would not be perfect, it would be sealed and would only be spoted by an extremely keen eye. Or, a new door. I have been looking around eBay and breakers and one in the right colour hasn't come up yet, but the going rate is between £150 - £200. I am still looking for one in a matching colour but a respray should be quick, easy and cheap. The second bad point is that the paintwork on the bonnet and a few other very small areas is a little chipped. I have tried to keep on top of it with touch-up paint and a good wash and wax hides even the most obvious blemishes, but I'd rather be hinest than have a buyer drive the van away, not look after the wax and then be dissapointed to see the touch-ups after a few months!
The PRICE
I am looking for sensible offers in the vicinity of
£12,500
. That will get you everything except the awning, storage pod and cool box, as I can use them on the next van. However, I can negotiate these into the price if you want them. The MOT and tax run until 31 Oct 2011, so you can have what remains. The van will come fully valeted, waxed and polished with all surfaces inside and out gleaming. I welcome any viewings in Ripon, North Yorkshire. However, clearly I can't keep the van looking immaculate everyday as it will be used up until it is sold, so please take this into account. But as I said, I can assure any buyer that I will ensure it IS immaculate before any handover of money takes place!!
Finally, if you have any questions about this van then please PM me and I will send you my contact details so we can speak privately.