Volkswagen continued it's line of "Campmobiles", to use the factory term, with the T4, maintaining it's relationship with coachbuilder, Westfaliawerke, who had produced their Camping Box, first shown in 1951, and other more specialized (SO) vehicles, from vans, Kombis and Buses "plucked" from the assembly line since 1952.

These conversions took place alongside others, such as...


... the BMC powered Tempo and...


... Ford's Transit - the Mark 1 is with fitted a contempory Dormobile roof, as were many of their VW T1 and early T2 models from that era.

This partnership, however, dissolved once Daimler Chrysler took full charge during 2002 - thus no T5 Westy range was developed. VW designed their own bespoke T5
California
instead, handbuilt in a unit alongside the main Hanover plant in Saxony, Germany. Westfalia now primarily concentrate on Mercedes, whilst maintaining their long association with Ford and General Motors (specifically Opel). Since 2008 the company has regained it's independence - f
or their latest range visit www.westfalia-van.de
<!-- / message --> <!-- edit note -->
Due to high demand in Europe and North America, right hand drive versions of the Westfalia had not been readily available since the mid 1970's (except for special order from VW offices in Baker's Street), when they were known in the U.K. as the Continental and

Camping Ca

r

or Camping Wagen in Europe. With the Continental


The lhd U.S Westfalia versions were called the Campmobile...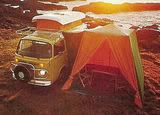 ... and the Australian Campmobile - the Adventurer.

The advent of the T3 saw the U.K. Motor Caravan market being dominated by VW based conversions - this saturation no doubt contributing to the demise of some of those companies. This trend towards localised VW "approved" (approved meaning Volkswagen Compatible Design) motor caravan outfitters occurred Worldwide, meaning that since the mid-seventies Westfalia were the only factory approved converter, as we shall see...

No room, then, for the Westfalia Joker range in the UK line up...


... although Leisure Drive briefly imported a rhd version of the Joker 1...


... and Travel World briefly built some rhd Continentals under license from Westfalia with furniture in a not-so fetching shade of green.

The States never saw their T3 Vanagon CamperCamping" or "Joker" (nor did they see the Hi-Top) nor did they see the later dropped, the U.K. market enjoyed various "design compatible "delights built by Devon, and, from 1977, the reintroduction of some Danbury models. adorned with "
Atlantic
and
California
which replaced the European
Joker
in 1988 - the latter name transferring to the T4 Cailifornia range of swb Coach and lwb
Club
, Tour and Exclusive hi-tops.

UK And European Conversions

The T4, with it's flat floor (as opposed to flat four) posed some problems for the surviving UK converters, as the "step" over the engine in previous models proved to be a useful base for the double bed (in most cases), and the rock'n'roll bed/seat hid a usefully large storage area. Thus some of the new T4 conversions had more in common with contemporary Sherpa and Transit camper vans. Some companies combined the best features of the previous layouts - retaining a decent sized rock and roll bed/rear bench and a luggage platform behind with stowage underneath for instance, which in turn were incorporated on some "Transit" designs.

Anyhow, some time passed after the T4's launch before conversions by:
Autohomes (Kamper ev, Komet ht

and

Koncord ht)

Auto-Sleeper (Talent, Topaz and Topaz LE ht, Trident and Trident LE ht, Trophy ht - shown - Trooper and Trooper LE ev)
Devon (Aurura ht and Moonraker ht)
Holdsworth (Caprice, Villa ht, Villa XL, Vision and Vista ht)

Swift (Carrera ht) came on stream.
This time lapse, however, allowed companies like Bilbos of Godstone, Surrey, and CMC of Hythe, Kent (the original U.K. importer of Reimo T3 product, building rhd versions of the popular Reimo designs) to properly develop layouts, both becoming successful approved builders of Volkswagen Compatible Design :

Bilbos (Breakaway, Celeste, Kompak, Nektar and Weekender)
CMC (Calypso, Cityvan, Lucky, Lucky Deluxe, Memphis, Miami, Miami Exclusive and Weekender)
Numerous smaller companies, many of which were founded on the back of the T3, also turned their attentions to the T4, including:

Autohaus

Auto Leisure Homes

AVA Leisure (Alexandria, Isis, Isis Sportstek and Osiris)

Beckenham Motor Caravans

Country Campers

Drivelodge (Safari, Sleeper and Tourer)
Euro Motor Campers (Safari)
KC Motorhomes (Mistreal and Transcontinental)
Leisuredrive (Crusader and Vivante)

Motor Caravan Conversions

Murvi (Mallard and Meteor)

Rainbow Conversions

Torbay Camper Conversions

Young Conversions (Iona, Islay, Islay Supreme)
Wentworth Motor Caravans (Camper, MPV, RV)
European converters, such as Campereve, Carthago, Dehler and Fischer continued to ply with the T4. For the first time Karmann built a conversion on the Kombi chassis...


the Karuso.

Coachbuilt Campers

Although not entirely new to the Transporter camper world, the advent of the T4 chassis cab saw more traditional coachbuilders take advantage of the modern T4 to complement their established ranges based on the Sherpas, Fiat Ducato/Talbot Express' and Transits of the period:
Autohomes (Explorer and Merlin)
Auto-Sleeper (Clubman GL, Gatcombe and Gatcombe LE and Sherbourne)
Auto Trail (Cree and Cheyenne 544, 584, 585, 614)
Car Cruiser (Buccaneer or Caribbean, Commander, Consort and Viceroy)
Compass (Calypso and Navigator 310RL, 360E, 360RL)
Foster & Day (Horizon Classique)
Holdsworth (Valentine)
Swift (Capri and Royale 550

)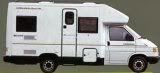 Karmann continued their VW coachbuilt motorhome tradition with the T4 Gipsy II, Cheetah and the later Colorado whilst...
... for the T4 Double Cab, a demountable camper body from Tischer - the Trail 280 / 280S

was also available.



T4 In America

Despite the T3
Vanagon
enjoying much success in the States, and now a cult following, the T4 Westfalia
California
models were never offered there. The 5-cylinder petrol
Eurovan
with 4 speed automatic, launched during 1993, included the MV - a
Multivan
- and the Weekender - a
Multivan
with the
California Coach
elevating roof, or Pop-Top, as they like to call them. These versions were also sold in Japan

The
Eurovan
was never offered with a diesel engine despite the August 1995 introduction of the "Euro 2"
TDI
, which met all bar the strictest Californian smog laws. This may be attributed to the American indifference to diesel powered vehicles in general, and the lack of diesel pumps at the "gas" stations. Anyway, full order books at home (Europe), and the fact that VW was having a rough ride in the U.S., led to
Eurovan
imports all but drying up in 1995, resuming briefly in 1997 with the T4b 140bhp VR6, only to resume as a mainstream model in 2000 as the thirsty 204bhp V6 automatic which was pitched against the car derived Honda Odessy (Shuttle to us) and Chrysler Voyager mpv's.

The passing of the T3
Vanagon Camper
range (which included the sought after
Syncro
model), once a staple model of the VW's American line up, left an insatiable demand for a compact VW "
Campmobile
". VW of America commissioned Winnebago Industries of Iowa to build an official camper known as the...


Full Camper

. This popular model was based on the lwb window van, with side windows cut in and fixed in a traditional way (i.e. not the usual flush bonded windows). Initially available in 1995 with the 2.5 petrol engine and auto box, this replaced by the VR6 in 1997 in longnose T4b guise and in 2000 by the

V

6

. ...
​
Winnebago also offered the Rialta, a 2- berth coachbuilt model based on the power cab that replaced their 2.2 litre Renault Traffic based Le Sharo, again with the 5-cylinder and V6 engines - and all with the 4-speed auto gearbox! (For export purposes, power cabs were bolted together back to back - they never needed reversing on or off the ships!)


The final Winnebago model was
the Class C coachbuilt Vista 21B and it's sister the Itasca Sunstar, again based on the WV3 V6 automatic Power Cab.


The Winnebago
Eurovans
were available to special order continuously in the States and Canada from 1995 to 2004. In Canada they were sold as
Eurovans
alongside a more mainstream line up of 4 and 5-cylinder petrol and diesel
Transporters
and
Caravelles
- the
TDI
conversion currently being a particular favourite with U.S.
Eurovan
owners.
25
TDI
models were built to special order and shipped back to Winnebago's German divison.
​
Australian T4's

Five cylinder petrol and diesel (and the
TDI
from 2000) T4's enjoyed more popularity in Australia and New Zealand next to a diverse array of American and Japanese rivals. However,
California
models were, again, not offered. Thus, another home grown industry thrived Down Under with enterprises such as Discoverer, Frontline and Trakka building campers - and other specialised vehicles - in all of the previous
Transporter
incarnations.
In 1995 Trakka's range of swb and lwb Campers were the only models to be accredited with Australian Type Approval. In 2000 they marked the new Millenium with a range of concepts including the 4wd Seikel equipped On Tour

(shown above) and the 2-berth

Trakka 2000.
​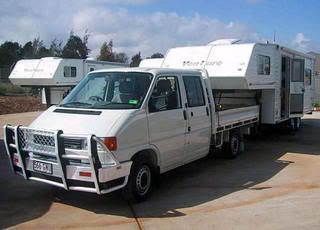 If space is an issue then

VentureVan

had an answer...
​

The T2c "bay window"

K

ombi

is still made in Brazil with a 1.4 litre Polo based water-cooled petrol engine and is available in the U.K. from Danbury, who make the Rio.