I have a set of Tidy T's LWB side bars for sale. These are really good quality bars, which fit nice and will not rust like the cheaper chrome bars available elsewhere.
These bars are in excellent condition and have literally only been fitted for 3 months, they have the silver end caps fitted. I'm only selling them because they're not quite shiney enough for me! I'm after a set of mirror polished stainless ones to go with the rest of the bling!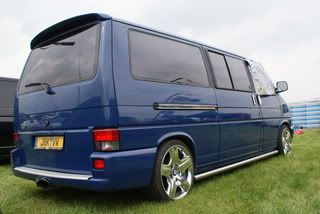 I can get a closer picture when I remove them or check Will's pics here:
http://www.vwt4forum.co.uk/showthread.php?t=27337
Paid £155 for them. Looking for £125.
Sorry forgot to mention that I'd prefer collection (because of the size), although if you can arrange your own courier I will pack them for you.
I can bring them to T4 FEST this weekend!